In a hurry? Get the Thunderbird plugin here.
I scratched an itch of mine this week and wanted to share the results with you, in case you happen to be one of the few dozen other people on Earth who will cry "finally!" to discover that this is now a thing.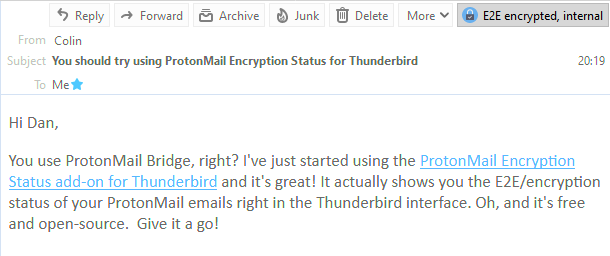 I've used ProtonMail as my primary personal email provider for about four years, and I love it. Seamless PGP/GPG for proper end-to-end encryption, privacy as standard, etc. At first, I used their web and mobile app interfaces but over time I've come to rediscover my love affair with "proper" email clients, and I've been mostly using Thunderbird for my desktop mail. It's been great: lightning-fast search, offline capabilities, and thanks to IMAP (provided by ProtonMail Bridge) my mail's still just as accessible when I fall-back on the web or mobile clients because I'm out and about.
But the one thing this set-up lacked was the ability to easily see which emails had been delivered encrypted versus those which had merely been delivered "in the clear" (like most emails) and then encrypted for storage on ProtonMail's servers. So I fixed it.

I've just released my first ever Thunderbird plugin. If you're using ProtonMail Bridge, it adds a notification to the corner of every email to say whether it was encrypted in transit or not. That's all.
And of course it's open source with a permissive license (and a doddle to compile using your standard operating system tools, if you want to build it yourself). If you're using Thunderbird and ProtonMail Bridge you should give it a whirl. And if you're not then… maybe you should consider it?