Update: following feedback from folks who found this post from Twitter, I just wanted to say at the top of this post – we're all okay.
Our holiday in Devon last week turned out to be… memorable… both for happy holiday reasons and for somewhat more-tragic ones. Selected features of the trip included:
Croyde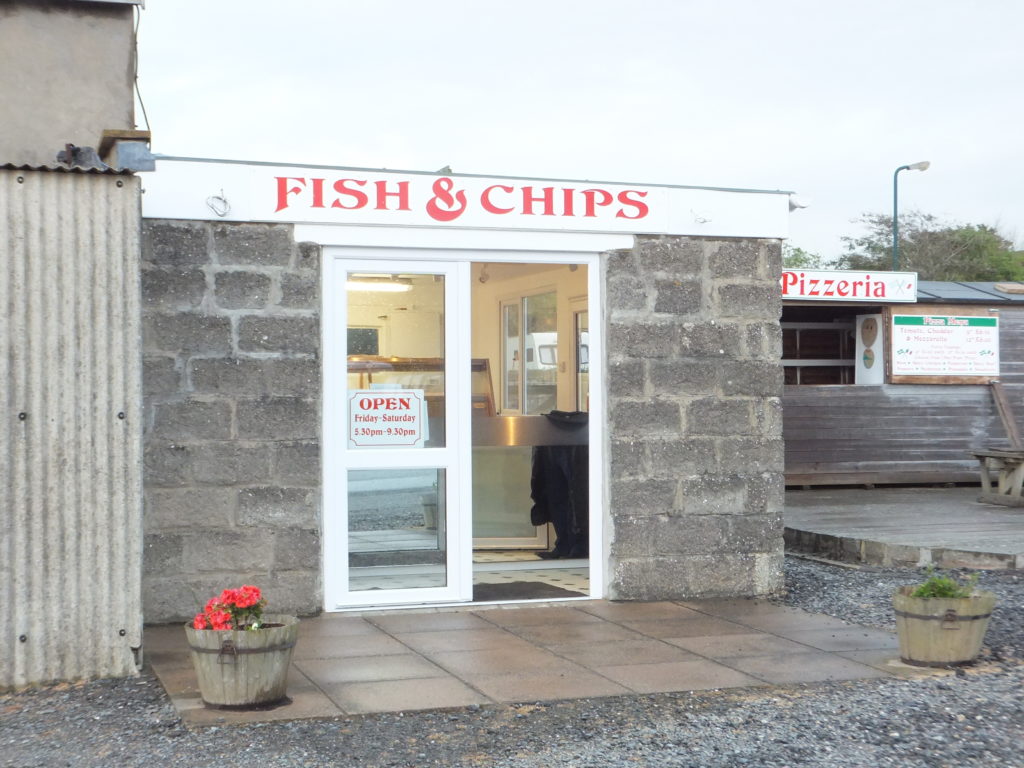 We spent most of the week in Croyde, a picturesque and tourist-centric village on Devon's North coast. The combination of the life of a small village and being at the centre of a surfer scene makes for a particularly eccentric and culturally-unusual place. Quirky features of the village included the bakery, which seemed to only bake a half-dozen croissants each morning and sell out shortly after they opened (which was variably between 8am and 9am, pretty much at random), the ice cream shop which closed at lunchtime on the hottest day of our stay, and the fish & chip shop that was so desperate to "use up their stock", for some reason, that they suggested that we might like a cardboard box rather than a carrier bag in which to take away our food, "so they could get rid of it".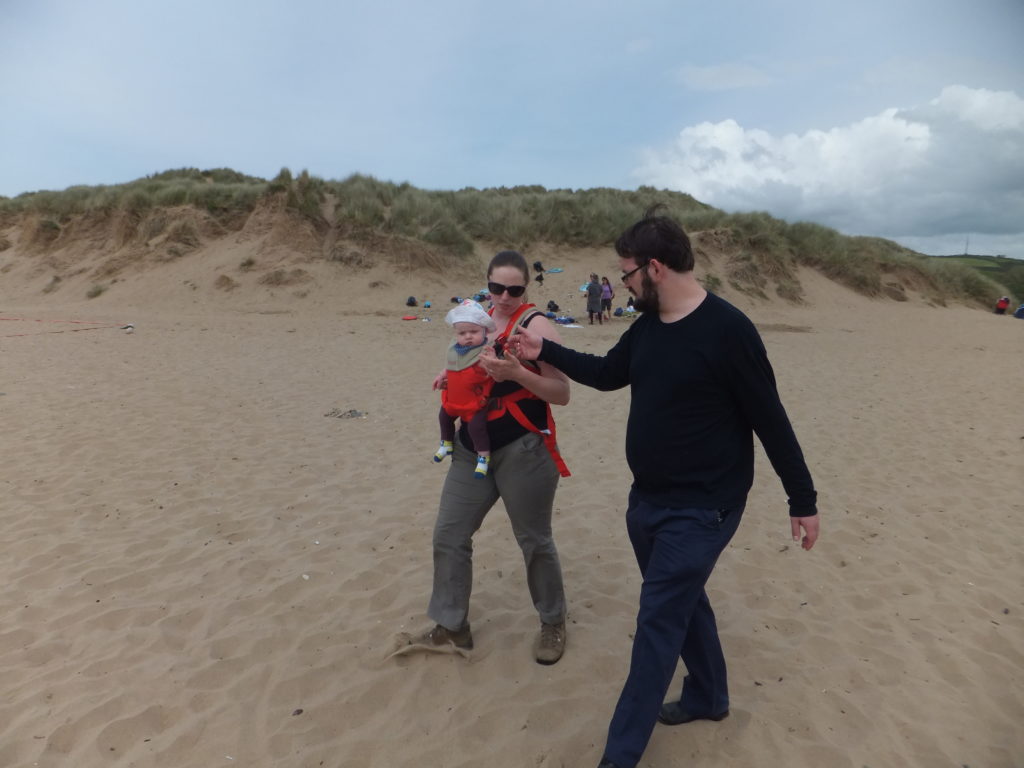 The Eden Project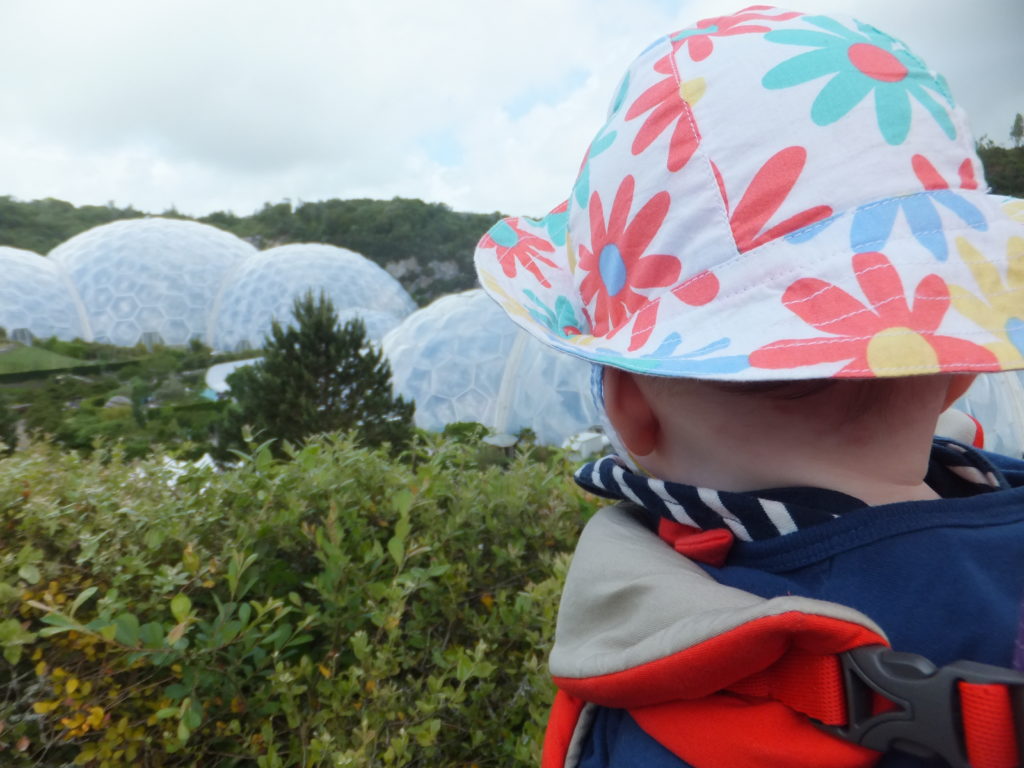 Ever since it opened in the early 2000s, I'd always wanted to visit The Eden Project – a group of biome domes deep in the valley of a former Cornish quarry, surrounded by gardens and eco-exhibitions and stuff. And since we'd come all of the way to Devon (via Cardiff, which turns out to be quite the diversion, actually!), we figured that we might as well go the extra 90 miles into Cornwall to visit the place. It was pretty fabulous, actually, although the heat and humidity of the jungle biome really did make it feel like we were trekking through the jungle, from time to time.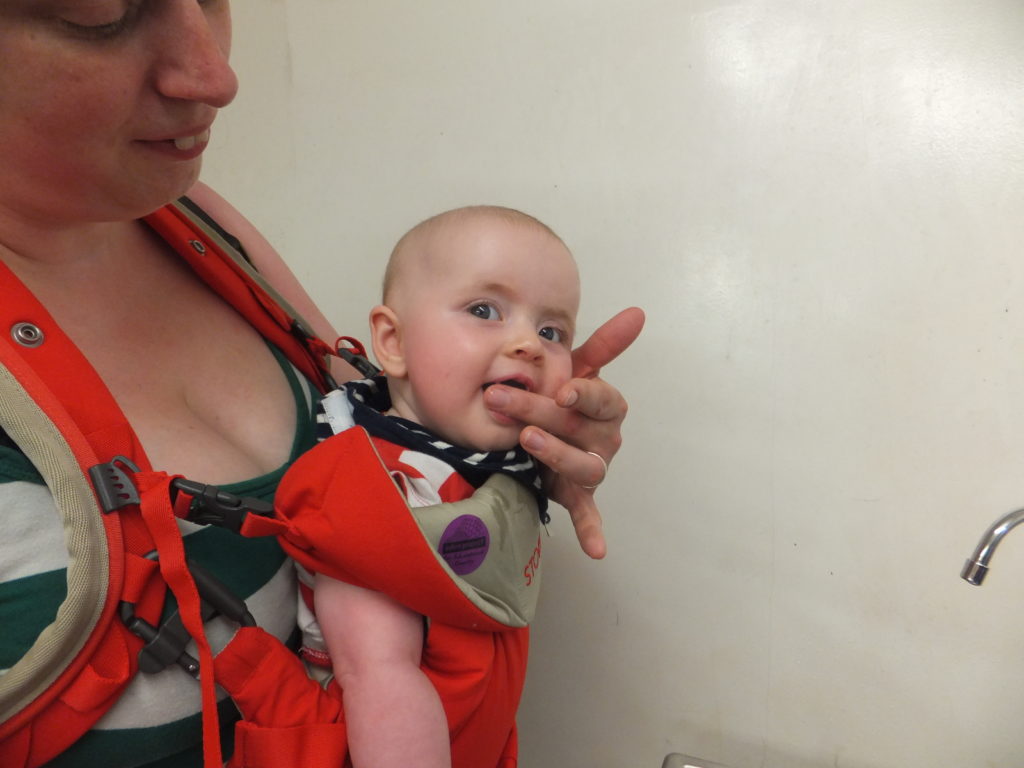 Geocaching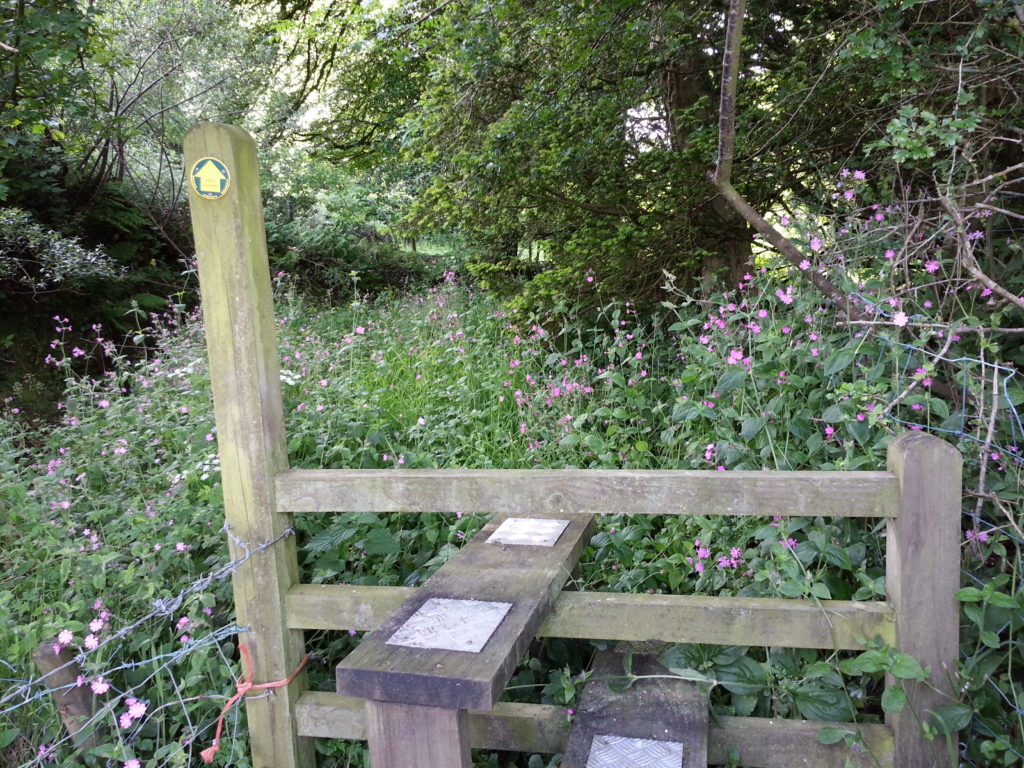 On one day of our holiday, I took an afternoon to make a 6½ mile hike/jog around the Northern loop of the Way Down West series of geocaches, which turned out to be somewhat gruelling on account of the ill-maintained rural footpaths of North Devon and taking an inadequate supply of water for the heat of the afternoon.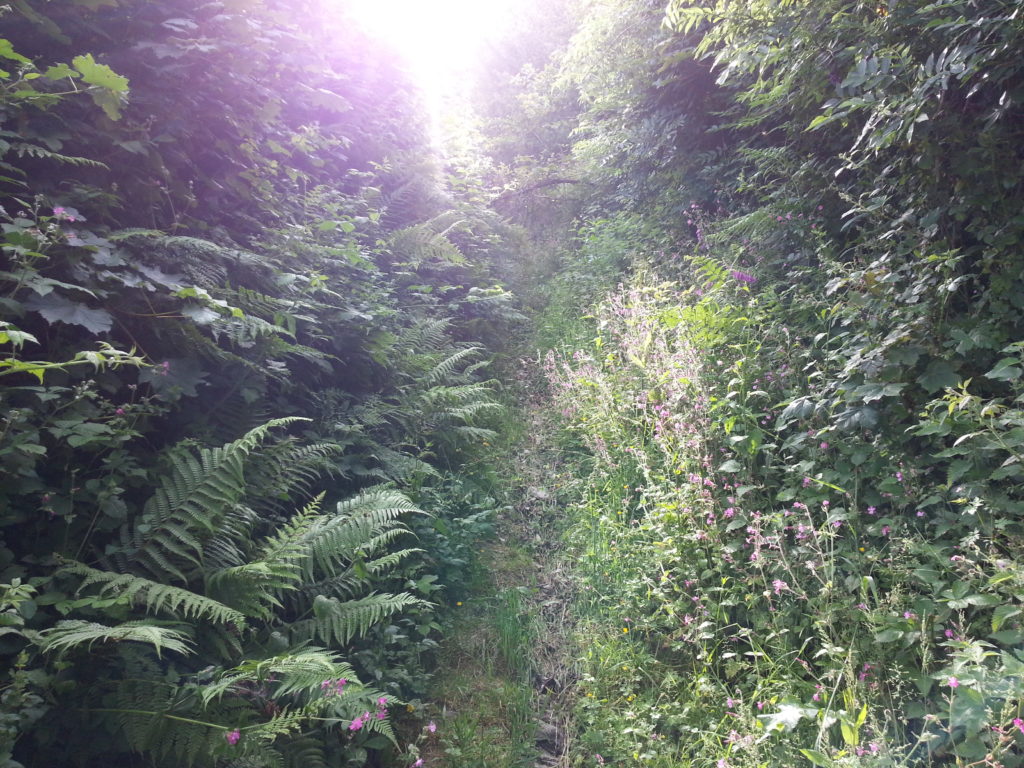 On the upside, though, I managed to find 55 geocaches in a single afternoon, on foot, which is more than three times my previous best "daily score", and took me through some genuinely beautiful and remote Devon countryside.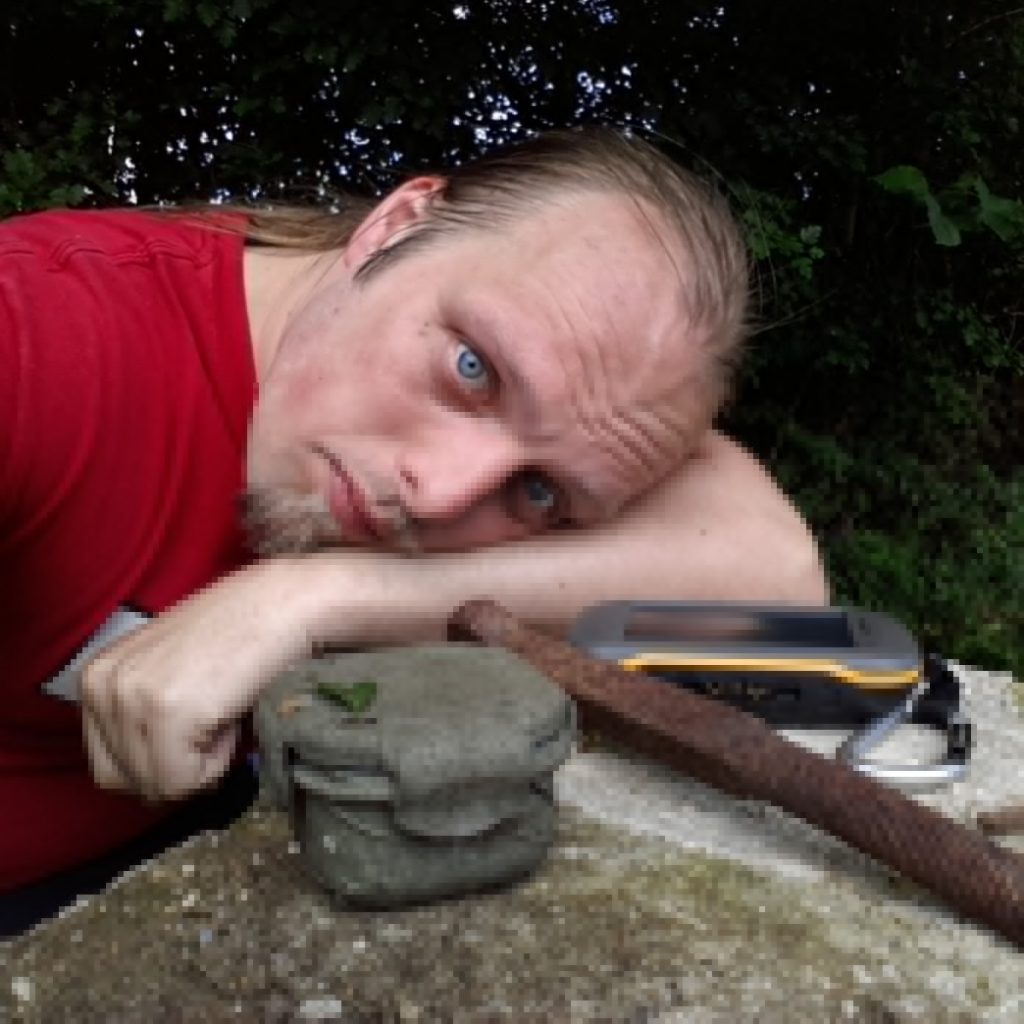 Watermouth Castle
We took an expedition out to Watermouth Castle, which turned out to be an experience as eccentric as we'd found Croyde to be, before it. The only possible explanation I can think of for the place is that it must be owned by a child of a hoarder, who inherited an enormous collection of random crap and needed to find a way to make money out of it… so they turned it into something that's 50% museum, 50% theme park, and 100% fever dream.
There's a cellar full of old bicycles. A room full of old kitchen equipment. A room containing a very large N-gauge model railway layout. Several rooms containing entertainments that would have looked outdated on a 1970s pier: fortune tellers, slot machines, and delightfully naïve peep-show boxes. A hedge maze with no exit. A disturbingly patriotic water show with organ accompaniment. A garden full of dancing gnomes. A hall of mirrors. A mock 1920s living room. A room full of primitive washing machines and their components. The whole thing feels schizophrenic, but somehow charming too: like a reminder of how far entertainment and conveniences have come in the last hundred years.
Baggy Point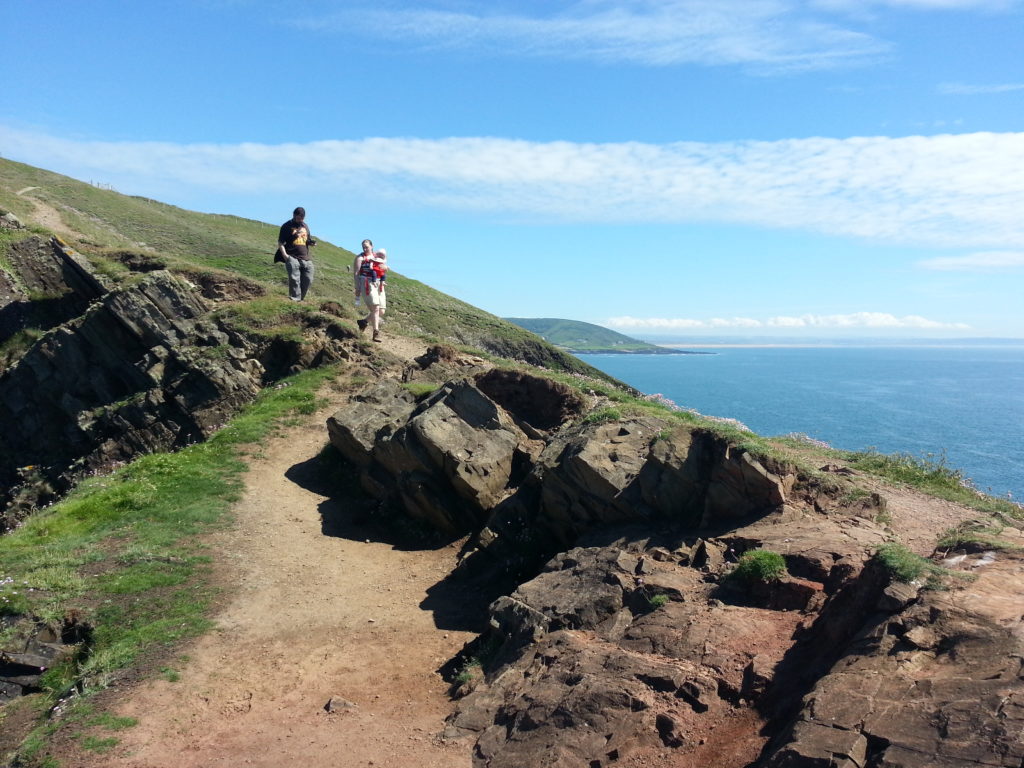 We took a hike out to beautiful Baggy Point, a beautiful headland stretching out into the Atlantic to make it the Easternmost point in North Devon. It was apparently used by soldiers training for the D-Day landings, but nowadays it seems mostly to be used to graze goats. The whole area made me reminisce about walks to Borth along the Ceredigion coast. Unfortunately for Ruth and JTA, who headed back to our accommodation before me, I'd failed to hand them the key to the front door before we parted ways and I went off to explore the rest of the headland, and in my absence they had to climb in through the window.
The Collision
For all of the wonderful things we got up to in Devon, though – everything above and more besides – the reason that we'll no-doubt never forget this particular trip came as we set off on our way home.
[spb_message color="alert-warning" width="1/1″ el_position="first last"]Warning: this section discusses a tragic car accident.[/spb_message]
About an hour after we set off for home on our final day in Devon, we ended up immediately behind a terrible crash, involving two cars striking one another head-on at an incredible speed. We saw it coming with only seconds to spare before both vehicles smashing together, each thrown clear to a side of the road as a cloud of shattered glass and metal was flung into the air. JTA was driving at this point, and hit the brakes in time to keep us clear of the whirling machines, but it was immediately apparent that we were right in the middle of something awful. I shouted for Ruth and JTA to see what they could do (they're both Red Cross first aiders, after all) as I phoned the emergency services and extracted our location from the SatNav, then started working to ensure that a path was cleared through the traffic so that the ambulances would be able to get through.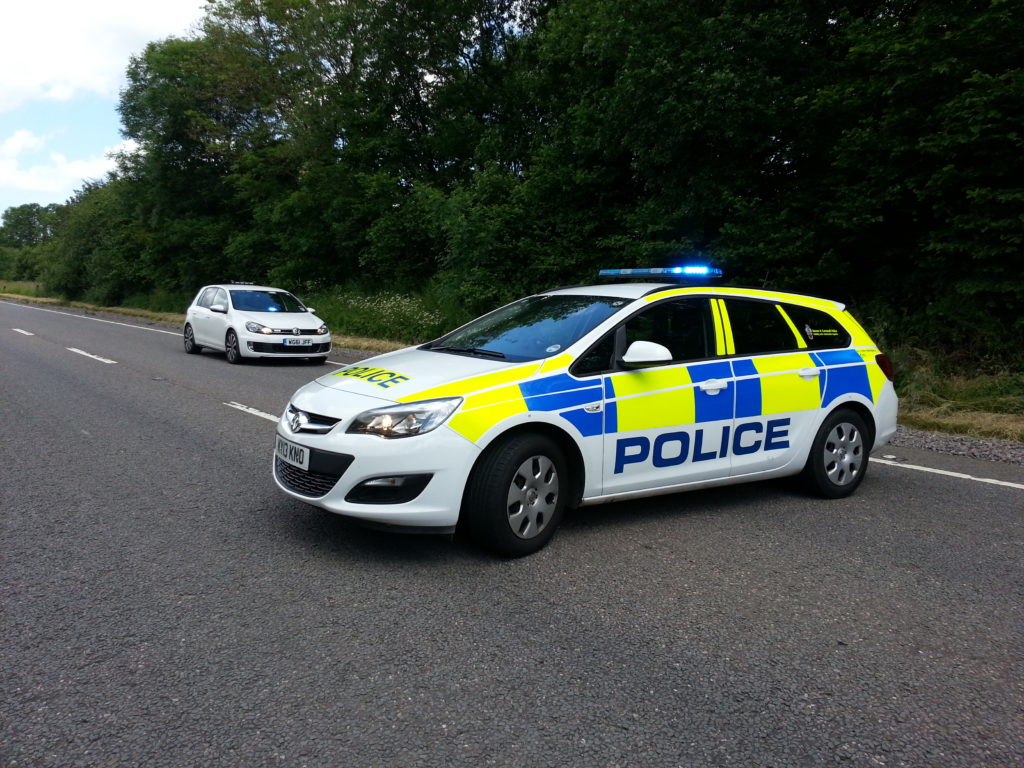 A passer-by – an off-duty police officer – joined Ruth and I in performing CPR on one of the drivers, until paramedics arrived. My first aid training's rusty compared to Ruth and JTA's, of course, but even thinking back to my training so long ago, I can tell you is that doing it with a real person – surrounded by glass and oil and blood – is a completely different experience to doing it on a dummy. The ambulance crew took over as soon as they arrived, but it seems that it was too late for her. Meanwhile the driver of the other car, who was still conscious and was being supported by JTA, hung on bravely but, local news reported, died that afternoon in hospital. Between the two cars, two people were killed; the third person – a passenger – survived, as did a dog who was riding in the back of one of the cars.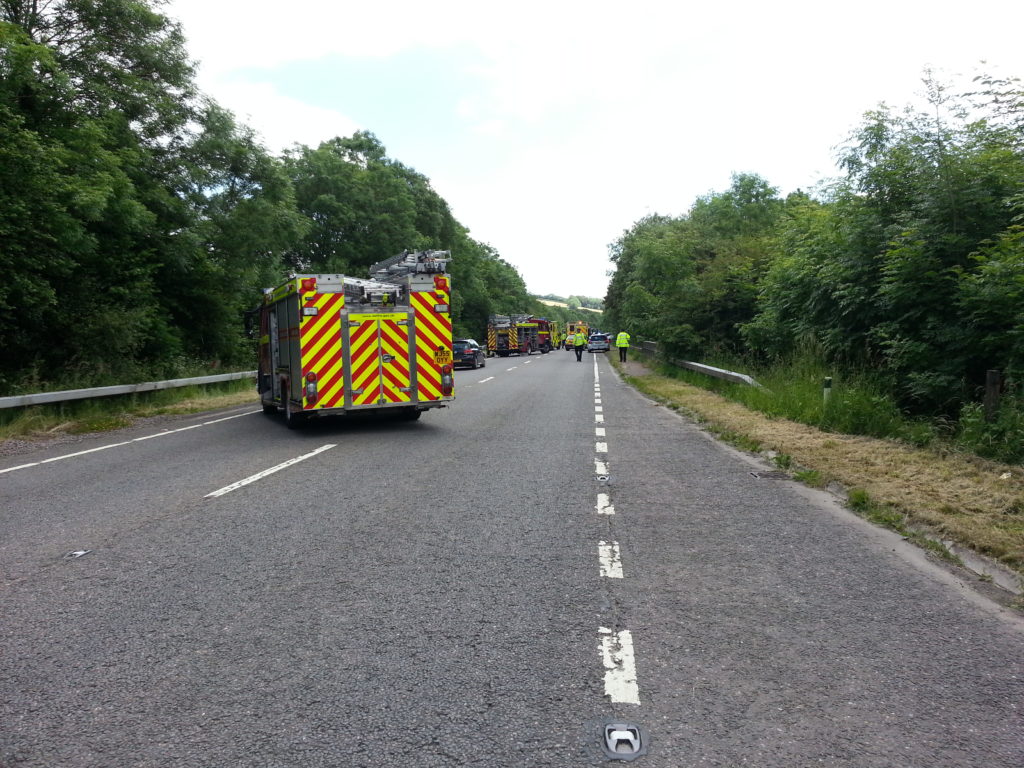 I am aware that I've described the incident, and our participation in its aftermath, in a very matter-of-fact way. That's because I'm honestly not sure what I mean to say, beyond that. It's something that's shaken me – the accident was, as far as I could see, the kind of thing that could happen to any of us at any time, and that realisation forces upon me an incredible sense of my own fragility. Scenes from the experience – the cars shattering apart; the dying driver; her courageous passenger – haunt me. But it feels unfair to dwell on such things: no matter what I feel, there's no way to ignore the stark truth that no matter how much we were affected by the incident… the passenger, and the families and friends of those involved, will always have been affected more.
It took hours for us to get back on the road again, and the police were very apologetic. But honestly: I don't think that any of us felt 100% happy about being behind the wheel of a car again after what had just happened. Our journey back home was slow and cautious, filled with the images of the injuries we'd seen and with a newly acute awareness of the dangers of the glass-and-metal box we sat inside. We stopped at a service station part-way home, and I remarked to Ruth how surreal it felt that everybody around us was behaving so normally: drinking a coffee; reading a paper; oblivious to the fact that just a few tens of miles and a couple of hours away, people just like them had lost their lives, doing exactly what they were about to go and do.
It's all about perspective, of course. I feel a deep sorrow for the poor families of the people who didn't make it. I feel a periodic pang of worry that perhaps there were things I could have done: What if I'd have more-recently practised first aid? What if I'd more-quickly decoded our position and relayed it to the operator? What if I'd have offered to help Ruth immediately, rather than assuming that she had sufficient (and the right kind of) help and instead worked on ensuring that the traffic was directed? I know that there's no sense in such what-if games: they're just a slow way to drive yourself mad.
Maybe I'm just looking for a silver lining or a moral or something in this story that I just can't find. For a time I considered putting this segment into a separate blog post: but I realised that the only reason I was doing so was to avoid talking about it. And as I'm sure you all know already, that's not a healthy approach.
Right now, I can only say one thing for certain: our holiday to Devon is a trip I'll never forget.