Pocket dialling was bad enough. I once received a phone call from a friend whose phone called me – as the last number he'd dialled – just as he was putting on a harness in anticipation of doing a bungee jump. So all I got to hear was rustling, and shuffling… and then a blood-curdling scream. Nice one.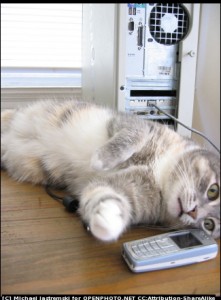 But in this age of smartphones, the pocket search has become a new threat. Thanks to the combination of touchscreens, anticipatory keyboards (I use SwiftKey, and I'm beginning to think that it knows me better than I do myself), and always-online devices, we're able to perform quite complex queries quite accidentally. I've got a particular pair of trousers which seems to be especially good at unlocking my phone, popping up a search engine, typing a query (thanks to the anticipatory keyboard, usually in full words), and then taking a screenshot and saving it for me, so that I can't later deny having searched for… whatever it was.
This morning, while cycling to work, I searched for the following (which I've reformatted by inserting line breaks, in order to transform it into the sort-of poem you might expect from sombebody both insane and on hallucinogens):
thanks again
and it all goes on
and I will Also
Also A bit LIKE THAT
THE ANSWER is
That you are looking at your Local Ryanair
and a ripening
and a ripening
I can assure are a BIT
and see the new template by clicking here
for
for YOU GUYS
GUYS HAVE YOU ANY COMMENTS
ON MY WAY BACK FROM YOU
And the other side and I will have the same
as a friend or relative
relative humidity
humidity
to you
you are here car
car
and
and embarrassing
embarrassing
the best thing is the first three years and over
over?
Maybe my phone is gradually becoming sentient and is trying to communicate with me. I for one welcome our new robot overlords.