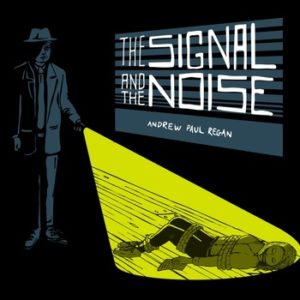 I'd just like to say a few words of praise for Andy's new album, The Signal and the Noise. It's not the first time I've said nice things about him, but it's the first time since he's been recording under his full name, rather than as "Pagan Wanderer Lu".
I can say this for sure, though: The Signal and the Noise has finally dethroned my previous favourite Lu album, Build Library Here (or else!). It's catchy, it's quirky, and it's full of songs that will make you wish that you were cleverer: so far, so good. I think that one of the things that particularly appealed to me in this album were that the lyrical themes touched on so many topics that interest me: religion and superstition, artificial intelligence, the difficulties of overcoming materialism, cold war style espionage, and cryptography/analysis… all wrapped up in fun and relatable human stories, and with better-than average running-themes, links, and connections.
One of the joys of Andy's (better) music comes from the fact that rather than interpretation, it lends itself far better to being issued with a reading list. To which end, here's a stack of Wikipedia articles that might help you appreciate this spectacular album a little better, for the benefit of those of you who weren't lucky enough to have read all of this stuff already:
Oh; backing vocals, you're too kind! But this is just another chapter in the story of my life.

The Omniscient Narrator
The final track's a little weaker than the rest (the actual final track, not the "hidden track" bit), and I'm left with a feeling that this was so-close but not quite a concept album (which would have been even more spectacular an achievement), but these are minor niggles in the shadow of an otherwise monumental album.
Go get a copy.
By the way; I've got a spare – who wants it?
Looking for an alternate opinion? Here's a guy who didn't "get it".