Last weekend, I got to go to the wedding of Liz and Simon. Particular highlights included: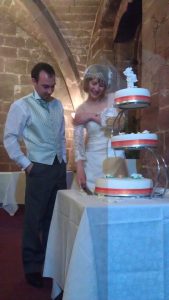 Liz & Simon getting married! Aww. Congratulations to you both!
Catching up with ex-Aberites from far and wide. Drinking, dancing, and talking about religion, philosophy, and sex.
The céilidh, which is one of the best wedding ideas ever, not least because everybody gets to dance with the bride.
A fantastic venue: the beautiful St. Mary's Guildhall, in Coventry (a city with, it seems, a half-dozen nice buildings nestled in between a thousand concrete monstrosities and a ring road modeled on Satan's anus itself).
Delicious food! And cake! And (veggie) sausage sandwiches just as we were beginning to run out of energy to continue dancing!
Speeches – both moving and funny – from the bride's father, the groom, and the best man… but all were beaten by Kellie, a 2 year-old guest whose own short but hilarious speech, "I'm pooing!", which she shouted from the balcony of the dining room.
Further reading: