This week, I was reading the new EU legislation [PDF] which relates to, among other things, the way that websites are allowed to use HTTP cookies (and similar technologies) to track their users. The Information Commissioner's Office has released a statement to ask website owners to review their processes in advance of the legislation coming into effect later this month, but for those of you who like the big-print edition with pictures, here's the short of it:
From 26th May, a website must not give you a cookie unless it's either (a) an essential (and implied) part of the functionality of the site, or (b) you have opted-in to it. This is a stark change from the previous "so long as you allow opt-outs, it's okay" thinking of earlier legislation, and large organisations (you know, like the one I now work for) in particular are having to sit up and pay attention: after all, they're the ones that people are going to try to sue.
The legislation is surprisingly woolly on some quite important questions. Like… who has liability for ensuring that a user has opted-in to third-party cookies (e.g. Google Analytics)? Is this up to the web site owner or to the third party? What about when a site represents companies both in and outside the EU? And so on.
Seeking guidance, I decided to browse the website of the Information Commissioner's Office. And guess what I found…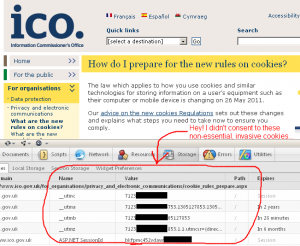 …not what I was looking for: just more circular and woolly thinking. But I did find that the ICO themselves does not comply with the guidance that they themselves give. Upon arriving at their site – and having never been asked for my consent – I quickly found myself issued with five different cookies (with lifespans of up to two years!). I checked their privacy policy, and found a mention of the Google Analytics cookie they use, but no indication about the others (presumably they're not only "opt-out", but also "secret"). What gives, guys?
Honestly: I'm tempted to assume that only this guy has the right approach. I'm all in favour of better cookie law, but can't we wait until after the technological side (in web browsers) is implemented before we have to fix all of our websites? Personally, I thought that P3P policies (remember when those were all the rage?) had a lot of potential, properly-implemented, because they genuinely put the power into the hands of the users. The specification wasn't perfect, but if it had have been, we wouldn't be in the mess we are now. Perhaps it's time to dig it up, fix it, and then somehow explain it to the politicians.