A week last Sunday – just a couple of day's after Paul's arrival – Earth hosted a housewarming event combined with our latest Murder Mystery, Murder at the Magic College. While we've had our fair share of Murder Mystery Nights before, this is only the third one I'd authored (after Murder in the Reign of Terror and Murder… in Space!), and only the second to use the non-scripted approach that many of have rapidly become fond of.
As usual, planning actually started about six months prior, when I made the first notes about what would eventually become the plot of the event, but that's reasonably unexciting (although everybody does seem to be shocked when I point out that excluding all of my notes, the final printed materials given out at the party itself totaled a little over 26,000 words: just a little shorter than my dissertation!). Instead, let's skip to just before the party, so I can have an excuse to show off the enormous amount of shopping we had to do in advance (as usual, click on any picture to embiggen):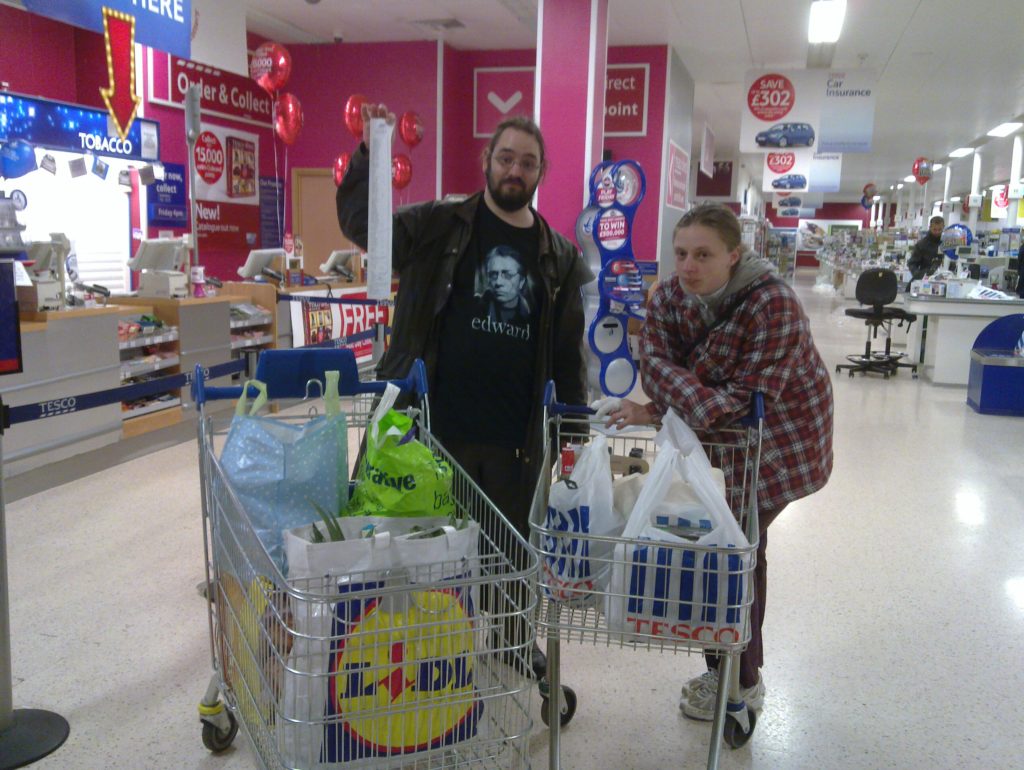 Ruth did her usual heroic quantity of cooking, starting several days before the event, and she was still sorting things out when Liz, Simon, and Finbar arrived, and quickly got roped into helping out.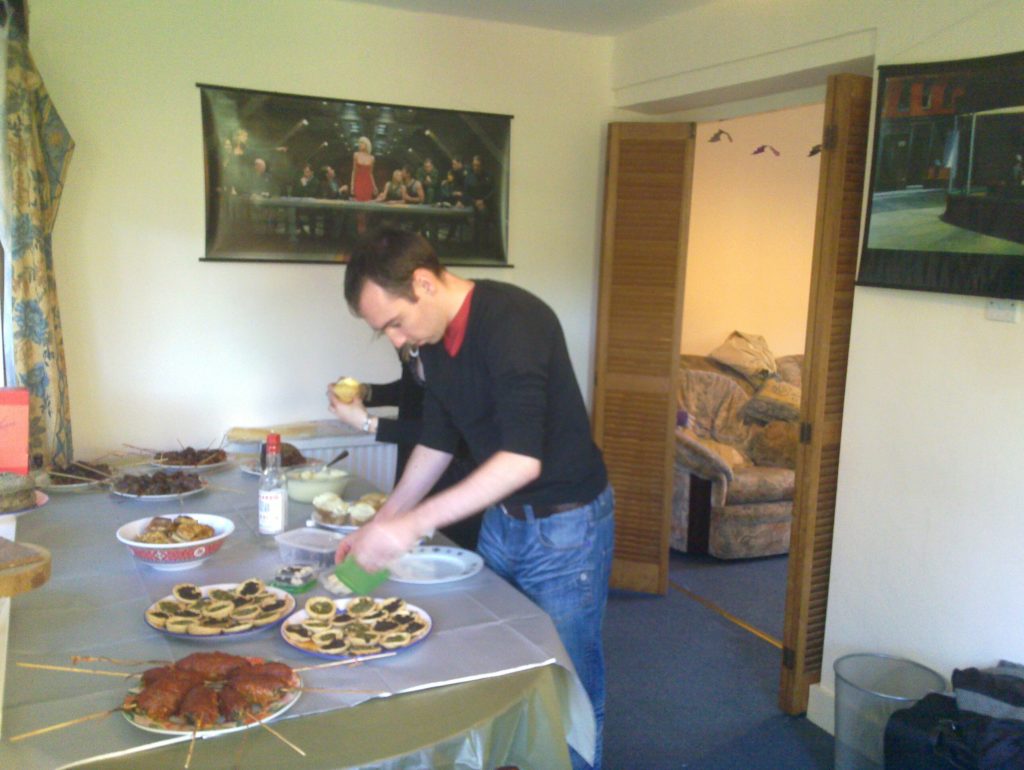 Turn up early, will you? That'll teach you. Ruth had gone all out on the magical theme to the food, with treats appearing on the table such as rat-on-a-stick, spider pies (with legs sticking out of the top!), pastry "bones", cakes decorated with magic wands and witches hats, and spacey twinkles on everything.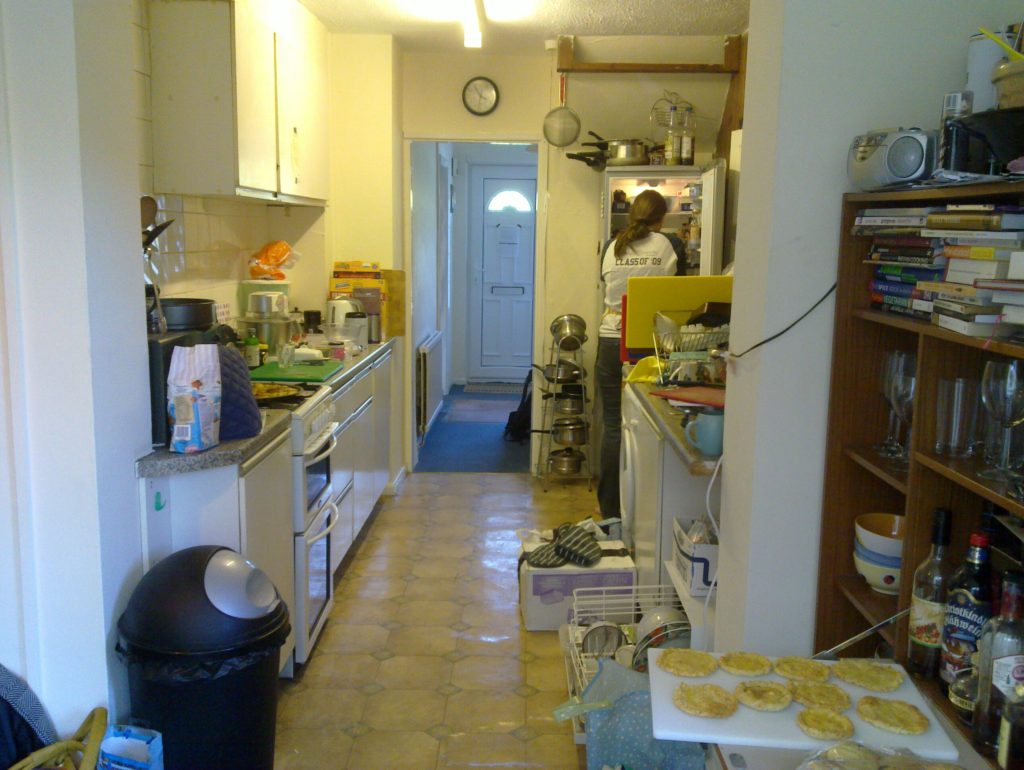 As the time came around for the party to start, a crisis occurred – as is traditional, just to keep my blood pressure from getting too low. This time around, my sister's friend Zara had been hospitalised following an asthma attack, and this was destined to keep my mother, her partner Andy, my sister Becky, and her friends Zara and Jemma, from coming on time. As Zara got herself onto a nebuliser I re-jiggered all of the characters and got as many guests to Earth as possible, so that we could kick off.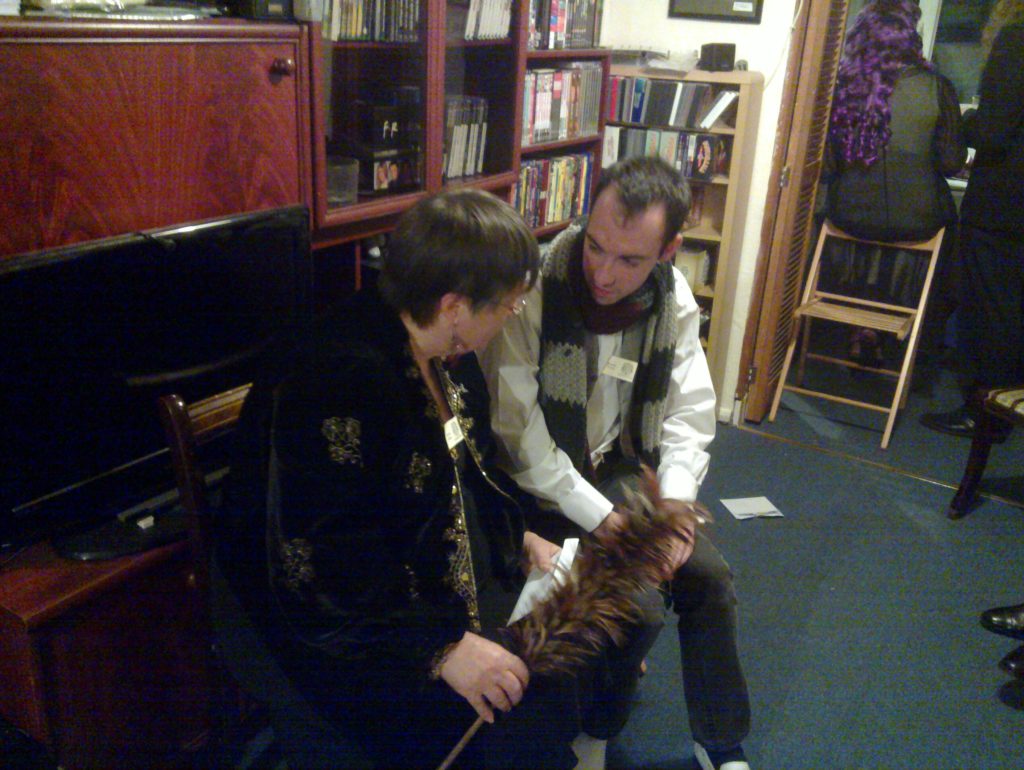 (if anybody is concerned about Zara's health, I wouldn't bother – she was later spotted smoking a cigarette in our garden, obviously feeling a lot better for her hospital trip)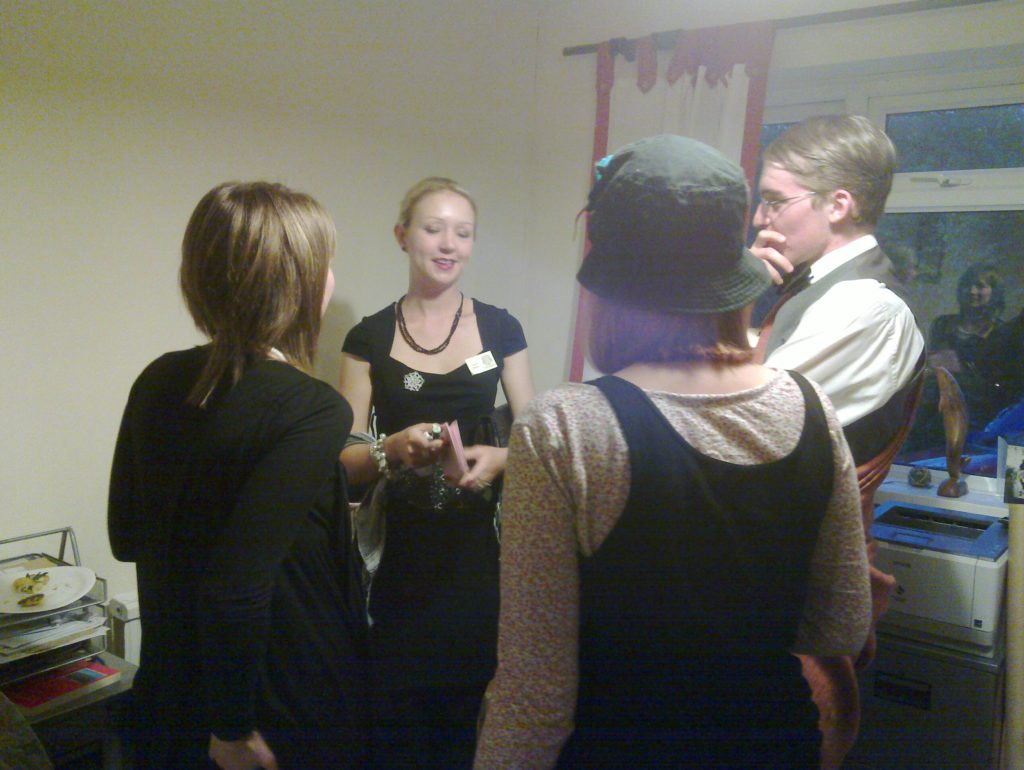 As the Harry Potter films' soundtracks played quietly in the background, the news came that the Dean of the Faculty of Runic Magic, Lewis Sloman, had been murdered, and the investigation was underway. Thanks to a few refinements made to the structure of the evening since Murder… in Space!, people managed to get "into character" quite quickly and the plot progressed reasonably smoothly all by itself.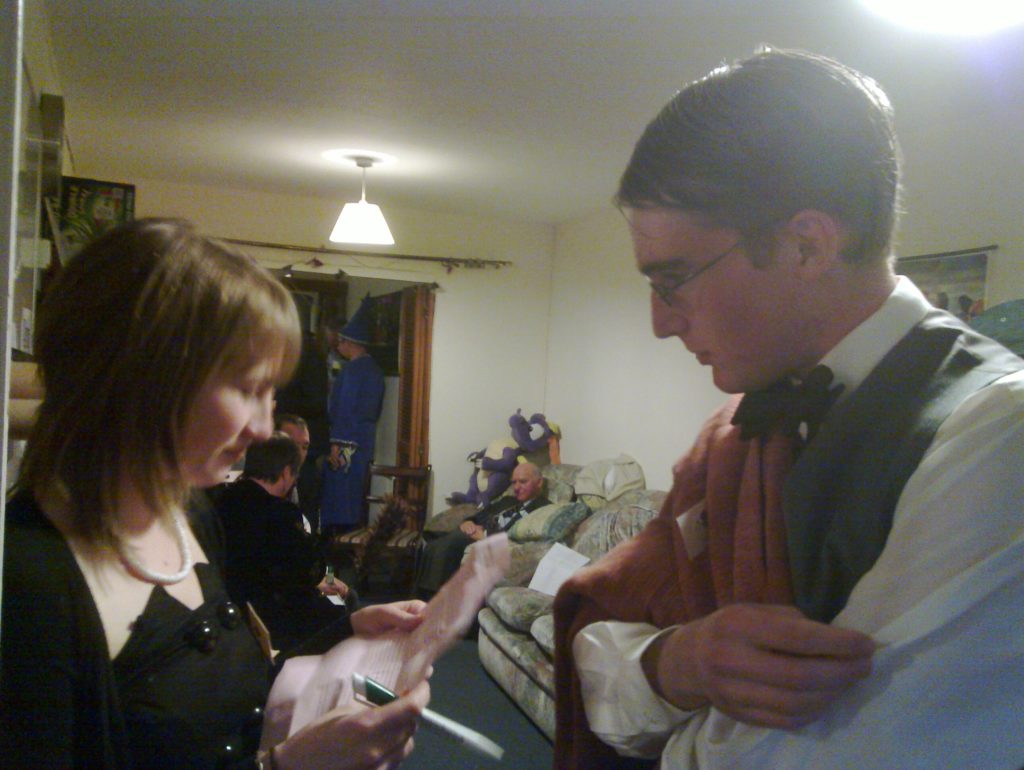 This Murder Mystery gave me the opportunity to try out a few experimental new ideas, which were – with one exception – reasonably successful. One new idea was the possibility for the murderer, later in the evening, to "Strike Again!", taking extra victims in a bid to escape detection. Normally I would be very wary about adding the capability for a character to be "knocked out" of the game (after all, what does the player do for the rest of the evening, then?). However, at the Magic College, death doesn't have to be the end, and a deceased character can continue to haunt the halls as a ghost (although they're only permitted to communicate with particular other characters, and only under special circumstances).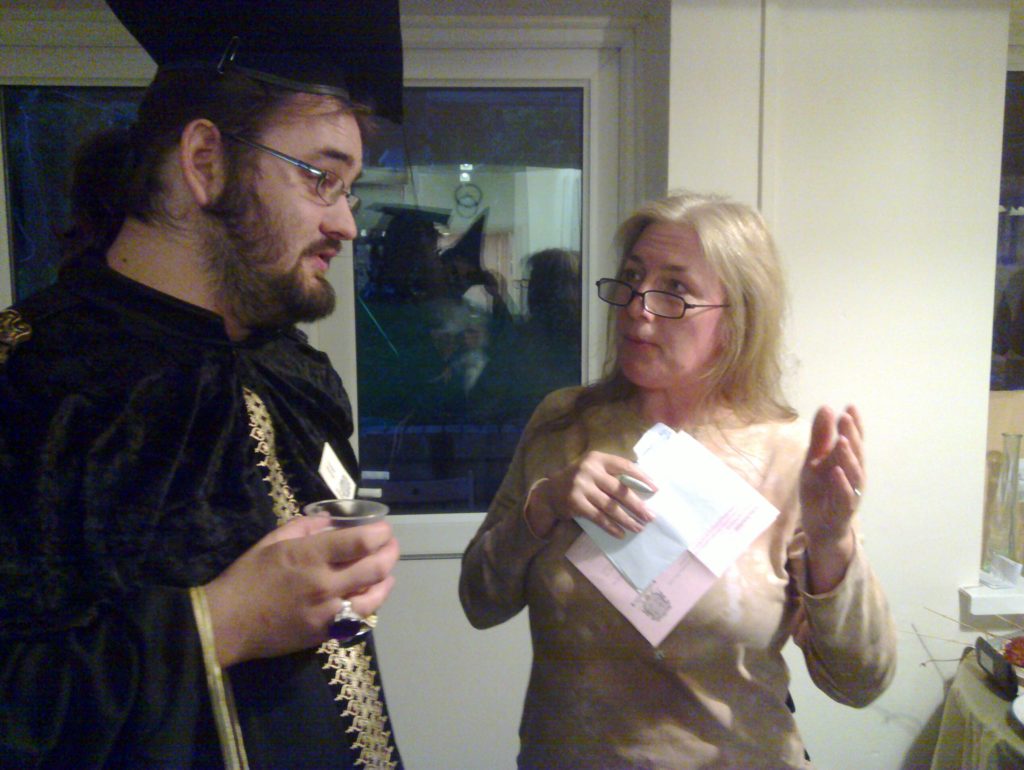 In addition, most of the characters (all of the faculty and students, but not so much the muggles) were "spellcasters", and had not only one or two Ability cards to make use of, but also one or two Spell cards. The Spells were powerful (typically) one-shot abilities, but most of them were capable of being "recharged" by getting hold of a handful of "magic herbs" from the magic herb seller (who knew full well what her wares were worth and made a killing out of them).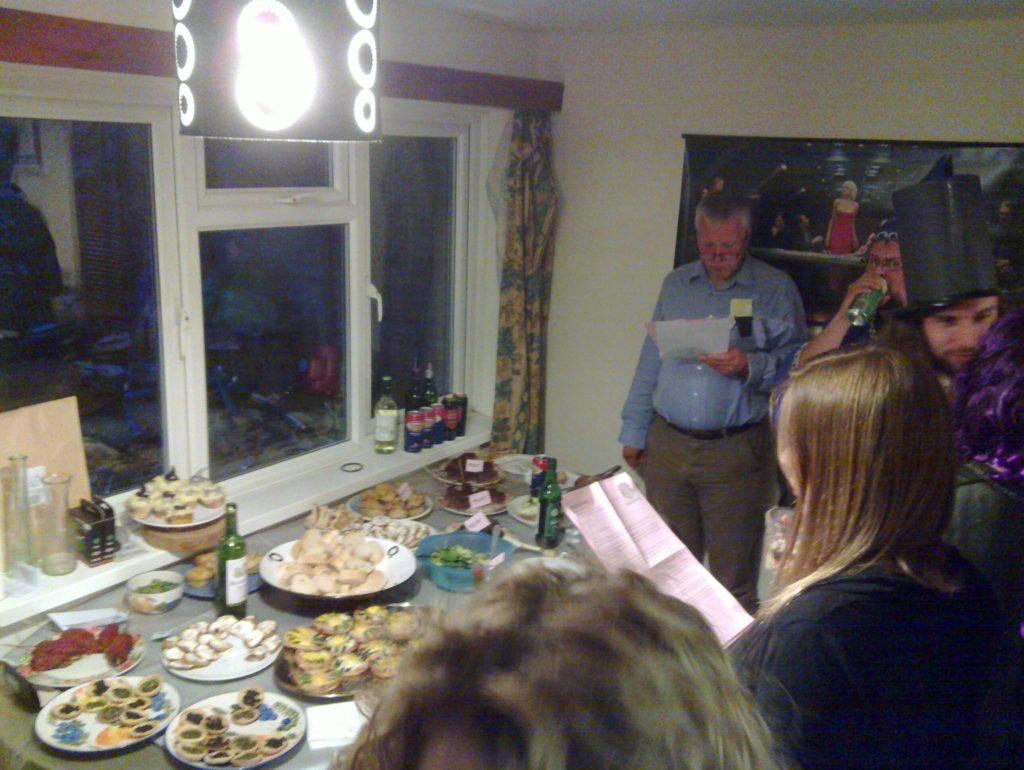 Another experimental feature of this Murder Mystery was that a handful of the characters could read one of the two "magical languages" of the land: "Runic", and the "Language of the Mystics". Characters who could read one, the other, or both of these had simple substitution cipher decoder keys printed on their character sheets. Now and then a clue would turn up that was written in one or the other language, so it was critical that characters had found multilingual characters that they could trust if they wanted to work out what these clues said.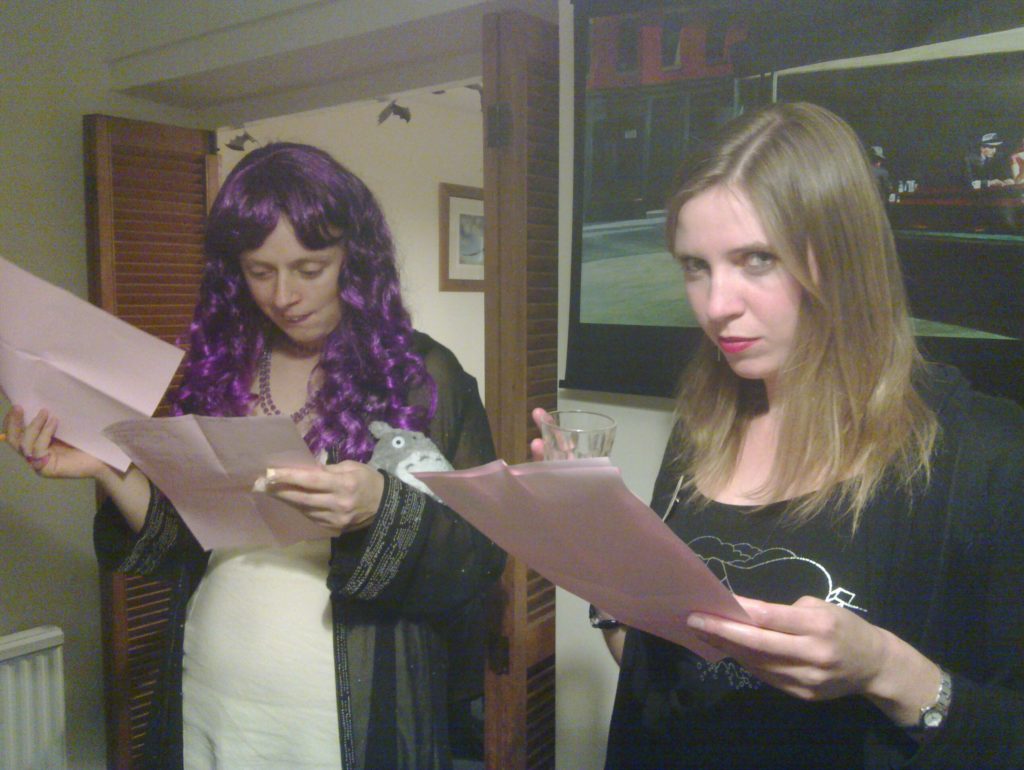 I'd deliberately tried to keep the pressure on, pushing events onwards throughout the evening and making sure that it was impossible for each character to achieve everything they wanted to with every other character before each Act ended. I wanted to create a mild sense of panic and urgency and an slight out-of-control feeling, but moreover, I wanted to give the players the sense that no matter what subplots they'd discovered and how close they were to working out who the murderer was, there was always something else going on that they just didn't have time to look into right now.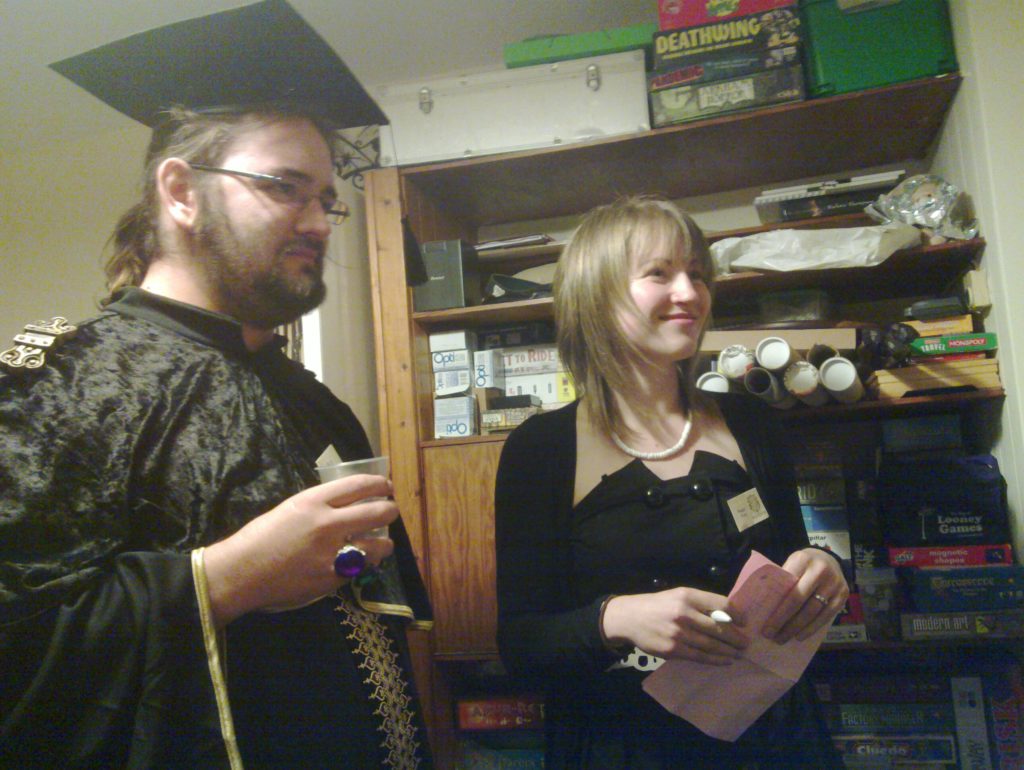 By way of example, here's a list of some of the subplots – aside from the murder – that comprised the event (if you were there, how many did you pick up on?):
All of the Faculty (Vesper Martini [JTA], Alan Tworings [Andy], Maggie Vixen [Liz H], and Sybil Scrawny [Doreen]) had a motivation to become the new Dean, but how important it was to them varied from character to character. Vesper Martini eventually achieved this goal by making outrageous promises to get people on his side.
All of the Students wanted to pass next week's Potions exam, but there were different ways to achieve this. High-flyers Harriet Plotter [Liz V] and Eskarina Smythe [Ruth] would pass without effort, but Ronald Ferret [Simon] and Daniel Paulson [Statto] wouldn't. An answers sheet stolen by Ron would guarantee a pass, as could Sybil Scrawny's exam exemption certificate, but Eskarina had the more-challenging goal that she wanted to get the highest mark, which involved ensuring that Harriet had to sit the exam and that no other candidate cheated.
One muggle, Melinda Spoolreel [Rosalind], actually had a Spell that they were capable of casting.
Old Betty [Sian], formerly known as Bethany Spoolreel, was actually the mother of Melinda Spoolreel, who for most of her life she'd believed to have been deceased. Had the late Dean's plan to in-source the production of spell reagents gone ahead, it was Betty's daughter who would lose out the most.
Harriet and Ron were both addicted to the consumption of magical herbs, and worked together to try to ensure that none of the faculty discovered their habit (while still trying to feed it!).
Eskarina was infatuated with her teacher, Vesper Martini, but he took her interest in him and his work mostly as her being just a promising and dedicated student.
Daniel was due to be expelled this afternoon by the old Dean – he'd even gone so far as to sign out the expulsion form (which began in Alan Tworings' possession, and could have been a great way for a faculty member to threaten a student! Of course, by the time Daniel turned up (late – he was busy smoking magic herbs with Harriet) to his appointment the Dean was already dead, and as such wasn't answering the door.
Lewis had been cheating on Alison with Sybil, but had called it off in an attempt to turn over a new leaf and repair the relationship with his wife.
Eskarina's Spell, Reveal, let her get herself and two other characters together and all put their Secrets in a heap, then flip a randomly-selected two of them. Old Betty's Ability, Stoicism, could temporarily counteract the ability to expose her secret, so, unlike all of the other Ability cards, it was printed on the same-coloured card as the Secrets were, in case she were targetted by Eskarina.
Harriet had the unusual second-Act goal that she wanted some people to accuse her of being the murderer! (but not enough to have her executed, of course)
The old Dean was aware that money was disappearing from the Library's funds (because Alan Tworings was diverting them to the greenhouses, much to Old Betty's surprise, to ensure that her Skeleton Key Tree was ready for his use), but he'd mistakenly assumed that librarian Eric Lazyman [Finbar] was embezzling. This had strained Lewis and Eric's relationship and almost cost Eric his job.
The murderer didn't know that the deceased would be given minor clues as to their identity, and didn't necessarily know that the deceased would be able to communicate with the living (until Maggie Vixen leapt excitably across the room shouting about how thrilled she was that the body was still warm and the soul still fresh).
Vesper Martini was trying to recover a pendant to which only he knew the name (but it was on his Secret card, if anybody exposed it) that could, when worn by somebody who knew its name, protect the bearer from death.
Vengeful Alison wanted her husband's killer brought to justice, and was also quite keen that the "other woman" in his life died, too.
Horny Ronald wanted to get a date with Harriet, Eskarina, or Maggie, but failed miserably.
Mark Woodbury [Peter] wanted to get hold of the magic bookmark or the alchemy textbook to include in his muggle-world theme park.
Maggie's Womanly Wiles Ability would not function against Alan Tworings (who, as we all later found out, was gay), but had she tried, she wouldn't be told specifically why it had failed.
Both Maggie and Sybil wanted to show off their abilities, which required them to cast their Spells and to later share the knowledge they'd gained with others.
Eric's library book contained on the inside front cover a library slip that demonstrated that Alan was last to take it out before it was reported damaged, and only borrowed it for a single day.
Alison wanted to finish the evening in possession of her husband's last letter: some time after Eskarina put it up on the whiteboard for everybody to see, it mysteriously went missing…
Every Minor Character had a clue: did you get them all?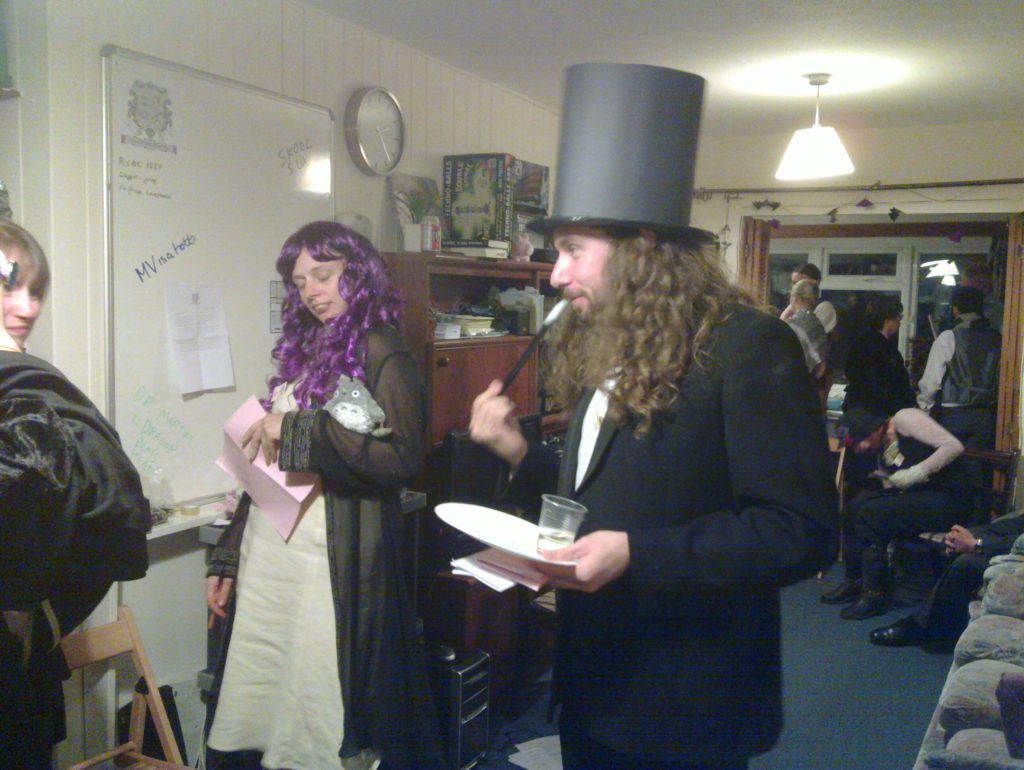 Another distinction setting this Murder Mystery apart from others was the Minor Characters twist. Pushed for time and with more and more potential guests (and with several guests saying that they didn't really want to have to take part in a huge way), I came up with the idea of casting some people as Minor Characters, with a lesser role to play. This backfired somewhat, it seems, because the Major Characters, stressed at having to discover clues at speed, tended to ignore the Minor Characters (who were less use to them), making them feel left out. I'm not sure that Minor Characters are unfixable, but they definitely need more "bang" if they're going to appear in any future Mystery I write.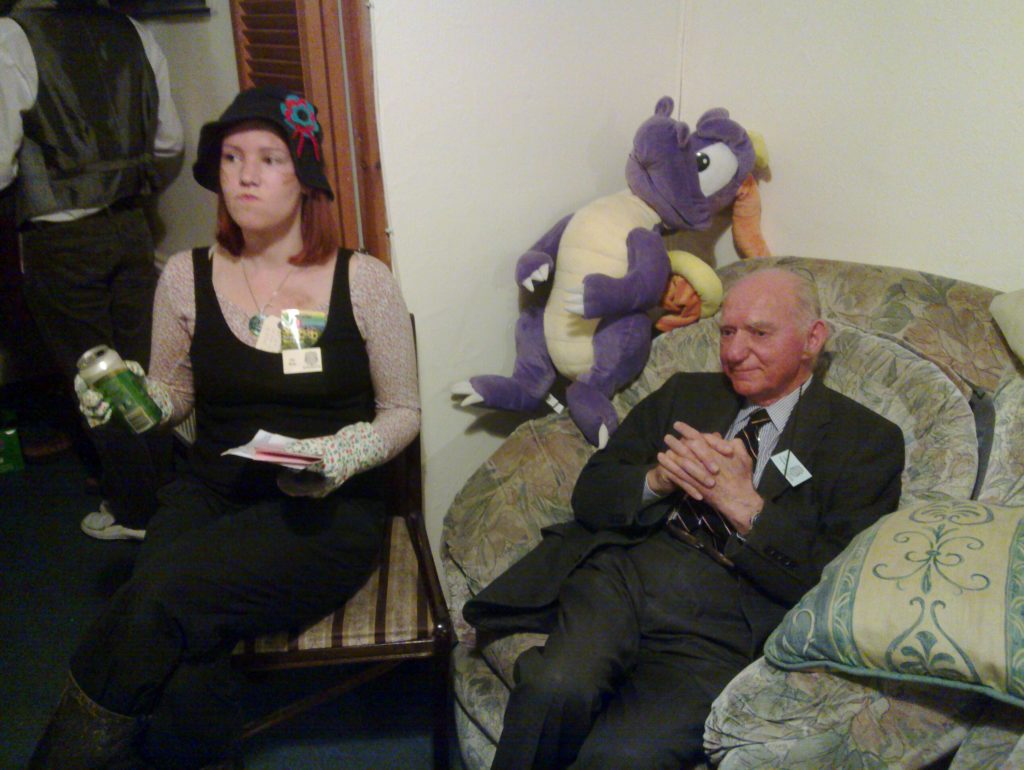 This Murder Mystery had the greatest proportion of "newbies" of any I've ever been involved with, with the exception of the very first. Of the 13 Major Characters, only 4 had any kind of previous interactive Murder Mystery experience, and only 2 of those had experience of an unscripted interactive experience like this one. I was a little nervous that people would be able to get into character, but adding "just read it out" style introductions and a handful of tips of "things to try first" seemed to make all the difference, and the characters all sprung to life remarkably quickly (aided, perhaps, by the copious quantities of alcohol available).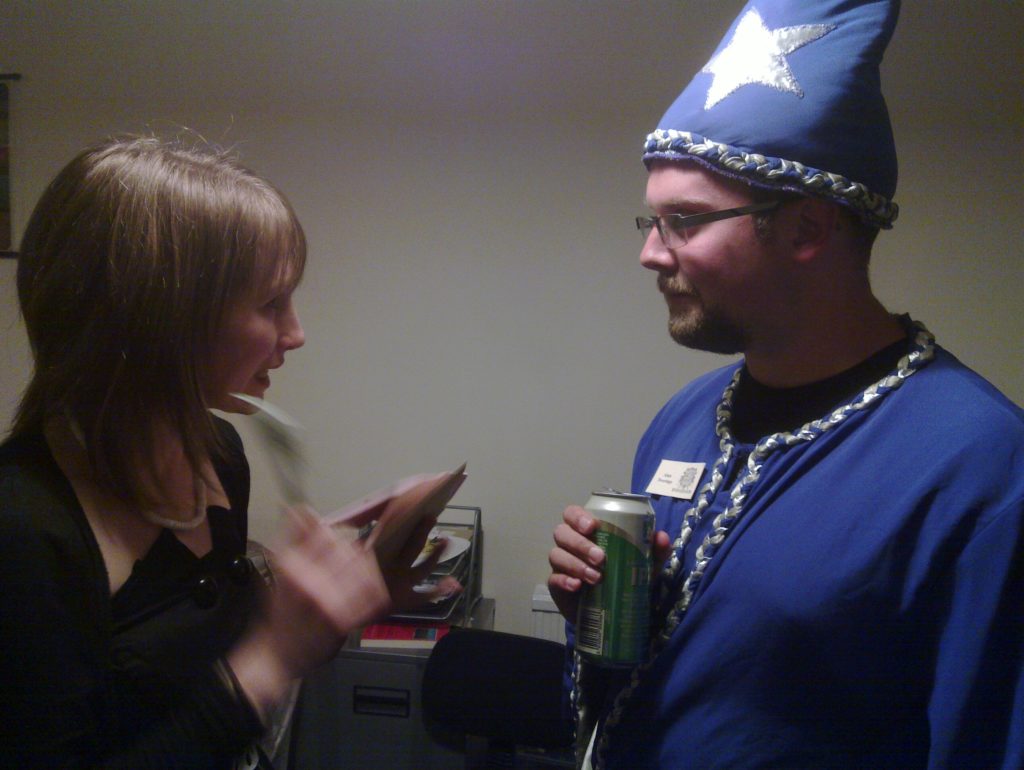 In fact, I've been told that in some cases people's enthusiasm for playing the part of their character and wanting to show off their trivia and silly accents actually got in the way of the players' investigative efforts. Everybody was having so much fun playing make-believe that they sometimes completely forgot to gather clues and achieve their goals, instead simply chatting about their projects, about upcoming exams, about who they think will become the next Dean, and about tasty tasty rat-on-a-stick.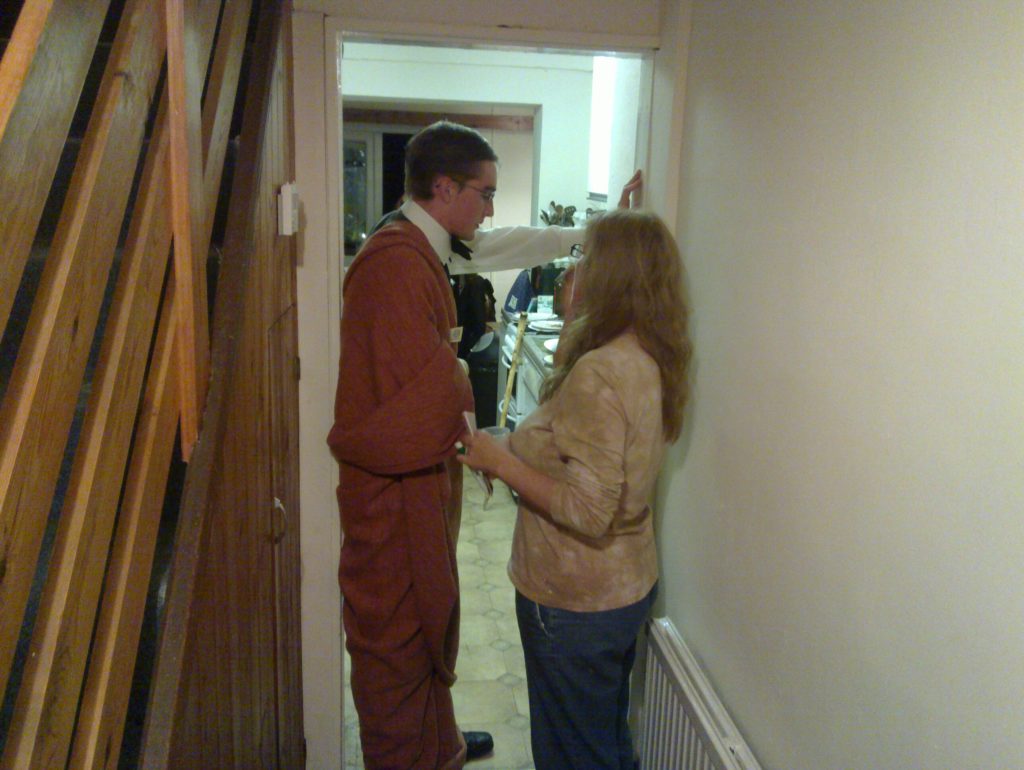 There were plenty of secret negotiations, alliances made and broken, and plenty of lying and backstabbing. I'd given more-than-usual freedom to the characters to lie about things than ever before, this time, and some imaginative (and in some cases accidental) lies quickly turned into rumours and spread via gossip throughout the cast. At one point I heard Dirk the Dragonslayer [Paul] talking about something "he'd heard" (which I knew not to be true: I'd never written anything of the sort, and it directly contradicted some of the less well-known evidence), and later heard a cluster of other characters trading this gossip it as information.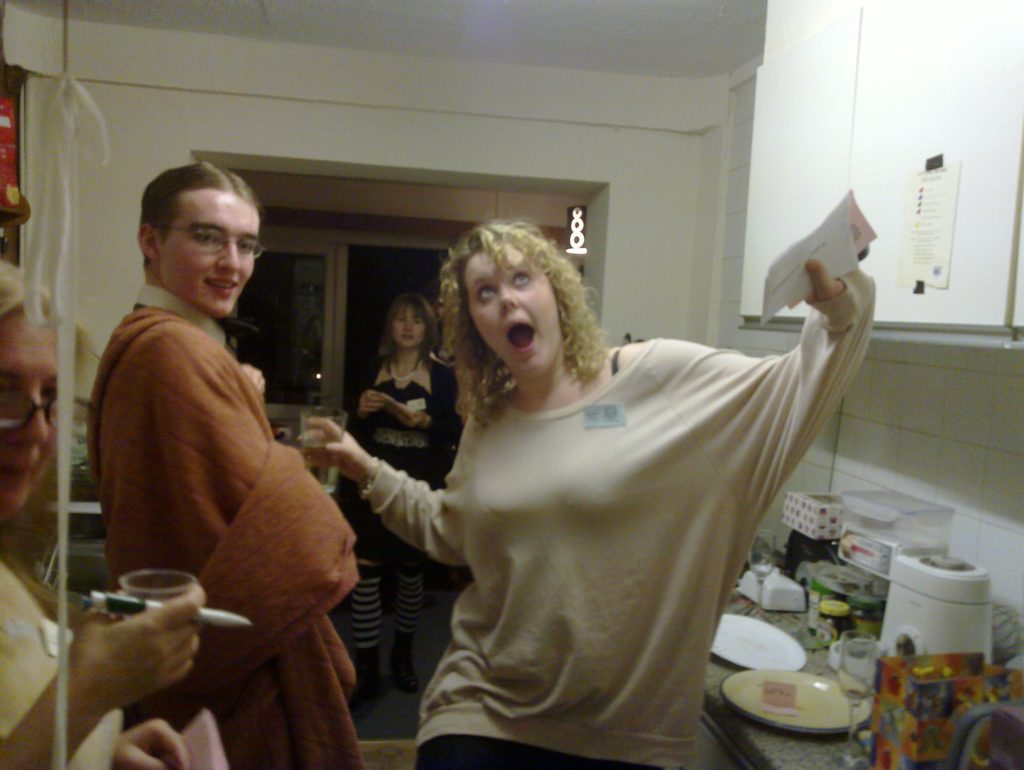 Yet again, the players exceeded my wildest expectations in their ability to bring my characters to life. For anybody not aware of my process, I don't write particular characters to fit particular players (I couldn't if I wanted to: when I start writing the characters up to half a year in advance of the party, it's far too early to plan such things), and in fact it's not even me that assigns the characters. Instead, I write the characters and then have Ruth – who only gets to see one or two sentences about each – assign them, and so it's particularly amusing to me when a secret character trait appropriate to a player gets coincidentally given to them. And in the other cases: well, that's what role-playing is about, isn't it – getting into a character that isn't yourself, and it pleases me immensely to see the characters I've spent months crafting brought to life through the interpretation of my friends.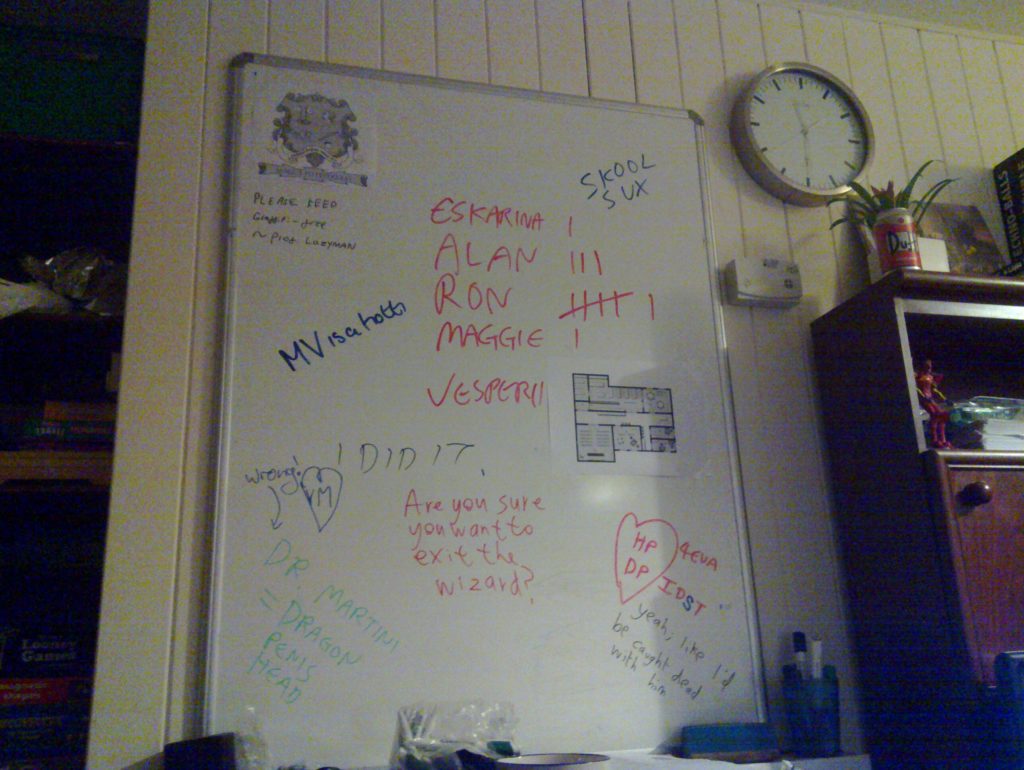 At the end of the evening the votes came in as to who everybody thought was the murderer. Alan (actually the murderer) took the first few votes, and then Ron (innocent!) rocketed ahead. I couldn't understand this: why were so many people suspecting poor Ron? It turns out that it was all because of a lie he told early on: in order to try to cover for the fact that he'd stolen the answer sheet to next week's exam, he tried spread a rumour that he was busy revising in the Library during the afternoon. It later became apparent that this unsubstantiated alibi (which could only have been exposed by persuading his friend, Harriet, to come clean and tell everybody that they'd been together, doing drugs, at the time) placed him unfortunately right where many people suspected that the murderer must have been at that time! Worse yet, those who realised that he was lying about his whereabouts at about the time of the murder quickly made the assumption that he must be doing this to cover for having been the killer!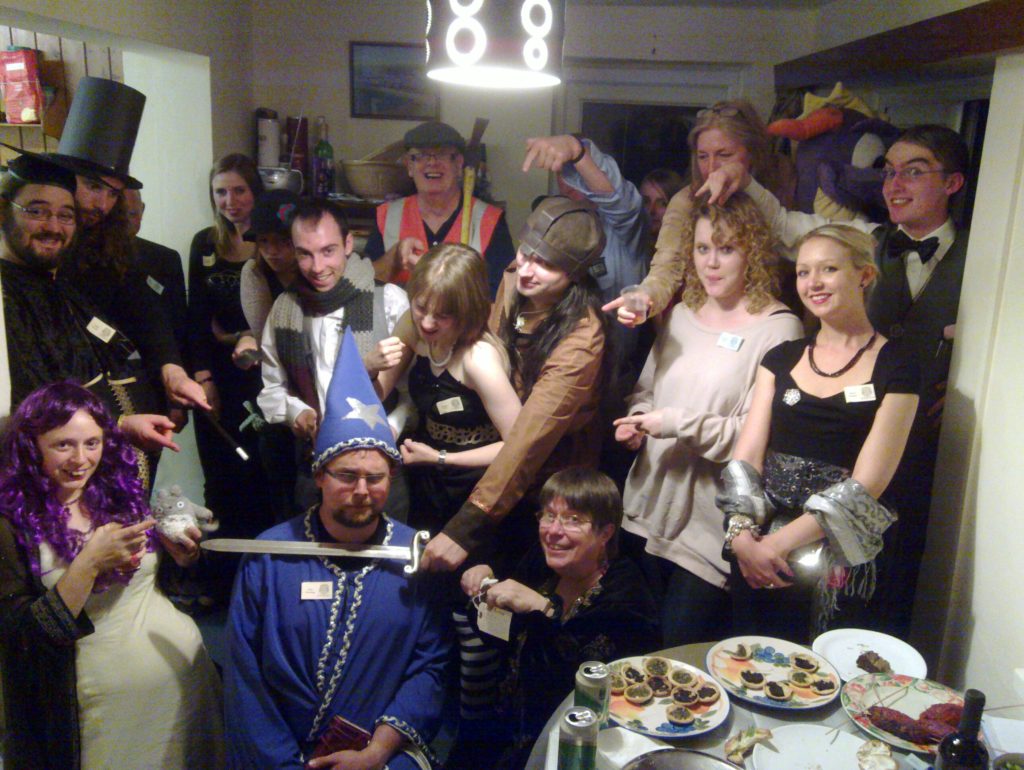 Another quirk to this particular party was a final secret ballot to nominate the new Dean and to pick the favourite costume, acting, and best investigator from the group. Alan managed to get away with the murder (and with managing to also kill the librarian, during the evening, whose strong and very vocal public accusations were starting to intimidate him), but didn't quite manage to take the Deanship: that was snatched by rival Vesper Martini, who'd spent the evening spinning a web of false promises, playing to the characteristics that everybody wanted to see in their new Dean.
So there we go, another fabulous Murder Mystery – perhaps the best yet! I've learned a lot, as always, that I'll be using for the next Murder Mystery, Murder at the Rock Concert (working title), that we'll be running in the New Year sometime. This new Murder Mystery will be set at the backstage party of a 1974 glam rock concert where the lead singer will turn up dead, so find yourself a pair of platform soles and some glittery make-up (guys too!) and we'll see you then!
Further reading: