After JTA and I's monster plan for a great April Fools' joke got rained-off this year (maybe another year), I just had to go ahead with two smaller April Fools' gags this year.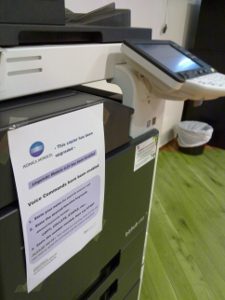 The Photocopier Prank
A nice simple joke at the expense of the people in the office building I work in (and far less complex than last year's prank against the same): I found a document online, printed it out, and stuck it to the photocopiers.
It instructs users that the photocopier has been upgraded with voice controls, so you can just "tell it" to copy, collate, staple etc. and it'll follow your instructions. The document goes on to explain that it's in "learning mode" right now and it might not get everything right while it learns your voice, so be patient and take the time to repeat yourself slowly and carefully.
I haven't got eyes on the copier, so I've no idea how many – if any – people it caught.
The Abnib Announce/Joke Of The Week Prank
For the last few years, I've run two a text-message based mailing lists (I've got unlimited texts as part of my mobile contract, so it's as-good-as free for me to do this). The first, Abnib Announce, lets people in Aber know about Troma Night, Geek Night, and similar events. The second, Joke of the Week, goes to a far wider audience and shares, every Friday, the best (by a loose and arguable definition of the word) of the jokes I've heard over the previous seven days.
This morning I sent out the following message to both lists:
Abnib Announce/Joke of the Week Update:

Bad news, everyone. My network has been in touch to say that running these regular bulk SMS lists is a violation of their Fair Use agreement, so I can't run them from my "free texts" package any more. The good news is they've offered an alternative. These lists will now become subscription-based SMS services. This will cost you no more than 15p per message received, and a maximum of £1 per week (so £2 per week if you're on both lists). I'm supposed to ask for your permission before subscribing your number, but I know you'll all agree anyway. If for some reason you DON'T want to continue receiving Joke of the Week or Abnib Announce at 15p per message, please text me back BEFORE the first message, this afternoon. Ta!
I've had a handful of great responses, so far, including:
Them: The rotters, what a bargain, keep the jokes coming please sir
Me: Seriously? When I made up those prices this April Fools' Day I should have put them higher!
Them: Hahaha, got me, first one too. Love to the crew
Halfway through a serious response to this i remembered what day it is…
Totally not falling for that, sorry! Happy April Fools
Them: Hey dan. Sorry i cant do that on my phone as my mum Pays my contract
Me: Happy April Fools'!
Them: Hee.very good
Them: I dont want to pay thanks. I have enough problems with arguing with orange over my phone bill at the minute, thanks. Hope you are good.
Me: April Fools'!
Them: Is it april already?! Damn i fell for it again! Nice one :-)
Them: Take me off the lists please! Ill get info from [other subscriber] and jokes from sickipedia
Me: Tell you what: because it's you I'll negotiate with your network: you're on Orange, right? I've kidnapped the dog of the CEO of Orange; I'm pretty sure I can get him to waive the charges in your case.
Them: Is vodaphone, and their ceo only has a parrot and 5 fish.
Me: =op
Them: Im confused, if its 15p per message why is it £2 a week?
Me: NO MORE THAN £2 a week (well, £1 per week per list). So 4 Joke Of The Week messages would be 60p, 8 would be £1, 20 would be £1. Remember that it's usually a multipart message spanning 4/5 messages each week. Full terms and conditions apply.
Them: Lol, sounds confusing, being a poor student i'll have to pass i think, though i'll miss moaning at your messages ;-)
Me: Really? You're actually going? And, even more unbelievably, you're actually falling for this obvious April Fools' gag?
Me: Gotcha ;-)
Them: Yup and yup lol :-P
Them: oh arse, i can't as i don't pay the phone bill. is it possible for you to put them online?
Me: April Fools', dummy!
Lol, good one. Did you manage to snare anyone?
Them: Textin back.no joke
Me: Gotcha! April Fools'.
Man, I love this day of the year.