This weekend, I was at BiCon 2009 (my third BiCon – I guess that makes it a tradition), and it was awesome. Here's a short summary of the highs and lows:
Travel
Worcester's closer than I remembered, and – once Claire'd gotten used to the Vauxhall Astra we'd rented – we made good time there and back. It's a really simple journey, really – you just drive along the A44 until you get there, and then you stop (well, okay, there's a brief stretch on the A470 near Rhayader, but that doesn't really count, does it?). The biggest difficulty we had was on the University of Worcester campus itself, which is a maze of twisty little passageways, all alike.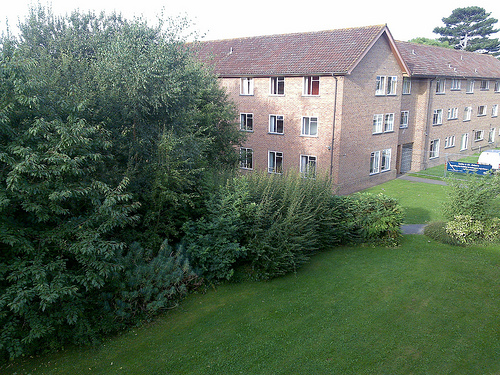 Accommodation

The usual student halls affair, although with rooms far larger and kitchens far better-equipped than those in, say, Penbryn. Also, the organisers must have run out of regular rooms, because the flat Claire and I were in had en-suite rooms, which was an unexpected luxury.
An interesting quirk in the halls of residence at Worcester is that they're very, very keen on motion-sensor-activated lighting with very short timers. The lights in the hallway outside my room would come on for barely seconds, and when I first checked in, I'd only just worked out which was my door and dug my key out of my pocket before I was plunged into darkness and had to leap around to get the attention of the sensor and get the lights back on. The one in the kitchen was even worse – while playing board games on the first night, we eventually grabbed an anglepoise lamp from one of the study bedrooms to use, as it was simply too frustrating to begin your turn right as the lights turn off, and have to wait for a few seconds until your movement is enough to turn them back on again.
On the other extreme, the light (and the – noisy – linked extractor fan) in my bathroom was so sensitive that it would turn on if I so little as walked outside the door to my bathroom, while it was closed, and often wouldn't turn off for several hours.
Registration
Registration was the usual fun and games, with less time than usual setting up our badges in accordance with the "sticker code" (sort of a handkerchief code, but with a key and an atmosphere of being a little more playful). As usual the sticker code started small (and, unusually, with a distinct and separate "official" code) and expanded over the course of the weekend, such that by the end of the conference it looked like this: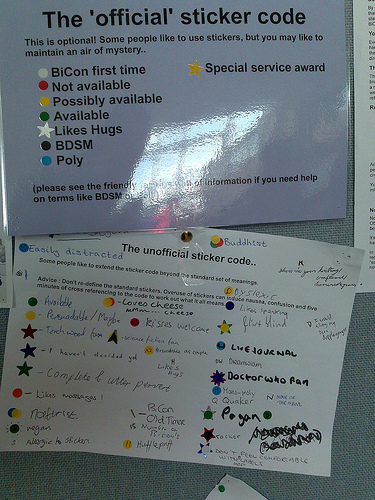 I didn't spend very long on my badge and stickers this year: just enough to get a core message across… plus a not-on-the-key "Q scrabble tile", as a reference both to being a board gamer and to Claire and I's unusual surname. There's probably at least half a dozen others I could have legitimately added to my pass.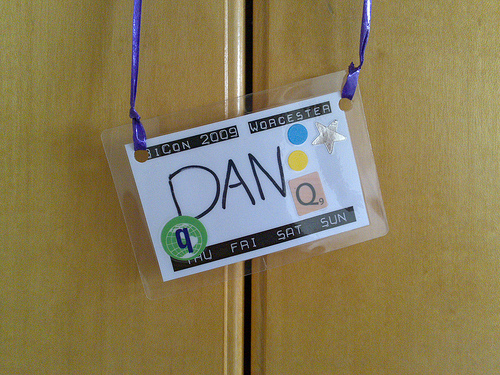 To save you squinting at the pictures (or clicking on them to see bigger ones: that's allowed, too), I'll decode my badge for you: polyamorous, likes hugs, possibly available (as in: I'm theoretically open to new relationships, but seriously – where would I find the time?), and the aforementioned "Q scrabble tile" and another "Q" that I found in the sticker stash.
Claire volunteered for a shift of reception desk duties, which is cool, because they're always in need of more folks there.
Other People's Workshops
I didn't go to as many workshops as I have in previous years: many of the things I was interested in clashed with one another, and other slots were simply full of topics that didn't catch my attention. Also, I've found that going to a workshop in "every other" timeslot is a perfectly good way to get by, and spending the alternating periods hanging out, meeting people, and playing board games is a great way to keep energy levels up in the otherwise quite draining busy-ness of BiCon.
Right at the start of the conference, I narrowly missed going to Genital Show & Tell, which I later heard was awesome – I'd gotten carried away talking to people and got there after they'd locked the door, putting a sign up on it that read "This workshop is closed. Sorry." and underneath which somebody had added "Yes, it is possible to have too many genitals in one place!"
I enjoyed Fun & Games, at which Ele joined me and we shouted lots of rude words, although never in as articulate a fashion as Nomad.
Went to the Smutty Bisexual Storytelling workshop for the first time this year, and it was amazing: huge thanks to the amazing Jacqui (is that spelled right?) for that fabulous (hot!) session.
Loved the talk and the discussion at the Quaker Marriage workshop (much thanks to the facilitator, whose low-key online presence suggests might prefer to remain unidentified), and the fabulous religion/marriage/sexuality conversation I had afterward with another participant in that workshop.
Hung out at two of the three scheduled Naked Lunches, at which I enjoyed bonding with several other (naked) geeks over a shared love of Interactive Fiction. Who'd have thought?
My Workshops
This year was the first year that I ran a workshop (last year's impromptu purity test party doesn't count), and, because I like a challenge, I ran two:
Alongside "fire_kitten", I got bullied into (well, okay, I sorta promised) running a workshop entitled Different Approaches To Polyamory. As the only official poly-workshop on the programme (that's why I offered!), it was somewhat over-subscribed, and we actually ended up with almost a quarter of the conference attendees present, and for part of the workshop we had to split them between two rooms. A lot of people grabbed me later during the conference and thanked me for the workshop, which was pleasing, especially as I did very, very little: mostly I gave the participants some conversation topics and split them up into groups, and chaired a bit of a chat about it all at the beginning and at the end. But if it worked, it worked, and it sounds like it worked.
When I'd first heard that there was a minor shortage of workshops, I felt compelled to provide one, but I couldn't think of anything that I knew enough about to stand up and talk about, that people might actually be interested in hearing about. And then I thought of something. I did my other workshop on Listening Skills for Supporting Others, and it also went really well. It was a little under-subscribed, probably because it was timetabled against the time that many people will have been preparing their BiCon Ball costumes (hell, if I'd have been doing so at that time, it'd have made things a lot faster and easier for me!). However, it got some fantastic feedback, even from folks who seemed skeptical at the beginning that any good could be done by listening and supporting feelings, rather than by providing practical help.
BiCon Ball
The theme of the BiCon Ball was Crime and Punishment, and so there were – predictably – plenty of burglars with swag-bags, police officers, superheroes and villains, and the like. The standard of body-painting was even better than normal (a number of people opted to wear virtually nothing, instead being painted as, for example, Wonderwoman, who didn't wear much to begin with).
Just to be that little bit different – and to take a metaphor to it's illogical extreme in our characteristic manner – Claire and I decided to actually dress as a crime itself. She dressed as a salt shaker and I dressed as a Duracell D-Cell, and together we were… a salt and battery. Get it? Everybody else we spoke to that evening did, too, eventually, although many of them needed some prompting.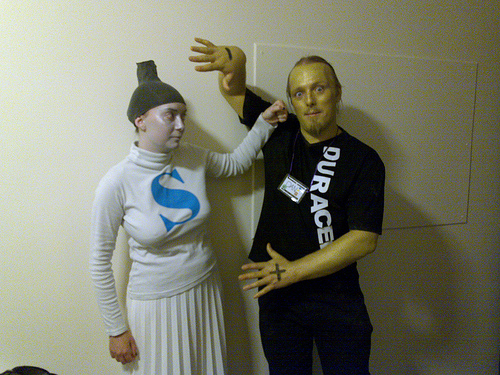 And There's More…
Other highlights and notable moments include:
The "settling in" period seemed a little worse than usual this year than last year. Somehow it took me a little while longer than normal to "get into the BiCon groove" and to start appreciating BiCon for the heap of awesome that it really is. It's always challenging jumping into that environment, and that's to be expected, but something made it a little slower this year. Perhaps the lack of a beer in my hand!
Thoroughly enjoyed the last-minute late-night picnic party we helped kick-off after the BiCon Ball. Some of the coolest people at BiCon found their way to the quad not far from the students union, carrying their leftover food supplies, and we broke bread and exchanged hugs and chatted and it was fabulous. After all that and one thing and another, I finally got to bed at almost 4am, knackered but happy.
Discovered some cool new board games that might be finding their way to a Geek Night near you (assuming you live in Aberystwyth) soon, including Frank's Zoo, Snatch, and Type Trumps (Top Trumps, but with typefaces; yes really).
Feeling like I'd helped make BiCon a success by volunteering to do a variety of bits and pieces (like the workshops, above) and generally being useful. It feels great to contribute back to the event and the community.
Katie managing to accidentally break a pool cue between her breasts. I didn't even know that such a thing was possible (apparently, it's left quite a bruise, and I'm not surprised).
Catching up (albeit only in passing) with Henri and Pascale, with whom we shared accommodation at our very first BiCon.
Spending an hour and a bit chatting to somebody who seemed to coincidentally know their way intimately around pretty much every interest I've thrown myself at over the last twelve months. But better. The killer was when it turned out that she spoke Esperanto better than me (if it's any consolation, she made up for knowing everything by being gorgeous).
Watching another somebody dancing. Honestly, I could have watched him all night.
Everyone seemed to like the campus, which is cool (presumably they didn't have rooms with extractor fans that whirred until three in the morning, which is quite irritating if you happen to have gone to bed before then, which happens sometimes).
Didn't see as much of my flatmates as usual, which is a pity, because it included some fabulous people.
Having common sense. Knowing what to say yes to, and what to say no to, and why both are okay.
Not too bad a "coming down" post-BiCon period, this time.
Right; that'll have to do for a BiCon 2009 Roundup, because Ruth's cooking me dinner so I need to go eat.