This article is a repost promoting content originally published elsewhere. See more things Dan's reposted.
This article is a repost promoting content originally published elsewhere. See more things Dan's reposted.
hen I was very young, before I was on the internet — even before the internet was really a thing you could "go on" — I would dial into BBSs (bulletin board systems). BBSs were kind of like private, micro-internets that people set up in their houses. You had to use a dial-up modem to connect to them, and the people who were in charge of these networks (usually just some random technology enthusiast) could shut them off or boot you at any time. I got booted a lot when I was kid, because I was curious and annoying and all the things I am today but way less savvy about it. Once a guy who ran a BBS called my house to complain to my mother that her son had been snooping around in places he wasn't supposed to go — I don't remember what I was after, but I'm sure he had a very good reason to be angry.

Here's why I mention this: What I was doing online, in a virtual space, had real-world repercussions. It was real. What I was doing was real. That guy who complained about me was real. And I realize now that I never treated or experienced the internet like some other thing — as if the physical world were "real" and what happened on the internet was something less. That was where my real life was. That's where I was, as a person.

The internet was the most real thing to me that I'd ever had in my life, before my wife and my daughter; my job, my house, my things. Its existence helped to form the basis of my worldview, my politics, my obsessions. It gave me tools to talk and create in ways that would have been impossible in another age. But it was never not reality. I wish the rest of the world had always seen it this way…
If you're a web developer and you haven't come across the Google AMP project yet… then what stone have you been living under? But just in case you have been living under such a stone – or you're not a web developer – I'll fill you in. If you believe Google's elevator pitch, AMP is "…an open-source initiative aiming to make the web better for all… consistently fast, beautiful and high-performing across devices and distribution platforms."
I believe that AMP is fucking poisonous and that the people who've come out against it by saying it's "controversial" so far don't go remotely far enough. Let me tell you about why.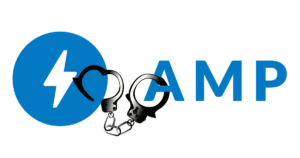 When you configure your website for AMP – like the BBC, The Guardian, Reddit, and Medium already have – you deliver copies of your pages written using AMP HTML and AMP JS rather than the HTML and Javascript that you're normally would. This provides a subset of the functionality you're used to, but it's quite a rich subset and gives you a lot of power with minimal effort, whether you're trying to make carousels, video players, social sharing features, or whatever. Then when your site is found via Google Search on a mobile device, then instead of delivering the user to your AMP HTML page or its regular-HTML alternative… Google delivers your site for you via an ultra-fast precached copy via their own network. So far, a mixed bag, right? Wrong.
What's poisonous about Google AMP
Ignoring the facts that you can get locked-in if you try it once, it makes the fake news problem worse than ever, and it breaks the core concepts of a linkable web, the thing that worries me the most is that AMP represents the most-subtle threat to Net Neutrality I've ever seen… and it's from an organisation that is nominally in favour of a free and open Internet but that stands to benefit from a more-closed Internet so long as it's one that they control.
Google's stated plan to favour pages that use AMP creates a publisher's arms race in which content creators are incentivised to produce content in the (open-source but) Google-controlled AMP format to rank higher in the search results, or at least regain parity, versus their competitors. Ultimately, if everybody supported AMP then – ignoring the speed benefits for mobile users (more on that in a moment) – the only winner is Google. Google, who would then have a walled garden of Facebook-beating proportions around the web. Once Google delivers all of your content, there's no such thing as a free and open Internet any more.
So what about those speed increases? Yes, the mobile web is slower than we'd like and AMP improves that. But with the exception of the precaching – which is something that could be achieved by other means – everything that AMP provides can be done using existing technologies. AMP makes it easy for lazy developers to make their pages faster, quickly, but if speed on mobile devices is the metric for your success: let's just start making more mobile-friendly pages! We can make the mobile web better and still let it be our Web: we don't need to give control of it to Google in order to shave a few milliseconds off the load time.
We need to reject AMP, and we need to reject it hard. Right now, it might be sufficient to stand up to your boss and say "no, implementing AMP on our sites is a bad idea." But one day, it might mean avoiding the use of AMP entirely (there'll be browser plugins to help you, don't worry). And if it means putting up with a slightly-slower mobile web while web developers remain lazy, so be it: that's a sacrifice I'm willing to make to help keep our web free and open. And I hope you will be, too.
Like others, I'm just hoping that Sir Tim will feel the urge to say something about this development soon.