On Tuesday last week, Ruth and I went to Etiquette, an unusual (and at least a little experimental) theatrical experience at the Oxford Playhouse. I say "theatrical experience", because while there were certainly elements to the evening that could be considered to be reminiscent of more-conventional theatre, it was far more like not going to see a play than it was like doing so.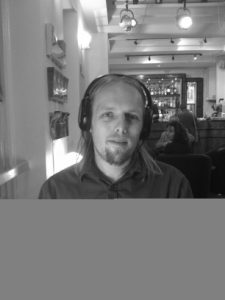 The event takes place in a café. And I mean that literally… I'm not just setting the scene; although many of the scenes also take place in a café. This is actually a cafe, with a handful of other participants, sat in pairs at their respective tables, and a majority of people who are just everyday folks out for a drink or a sandwich.
We were shown to our table and invited to sit. On the table were a collection of objects – glasses of water, a pipette, stage blood, two plastic figurines (one man, one woman), a ball of white tack, some chalk, a book, some notepaper, some blank cards… and a pair of MP3 players with headphones. We were instructed to put on the headphones. Simultaneously, the MP3 players were started.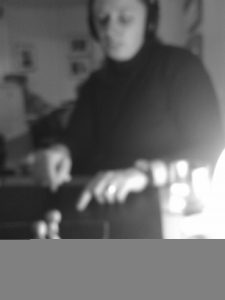 From there on, we followed the instructions given over the earpieces. My role was that of an older man, a self-described philosopher. Ruth played a prostitute, which lead to at least a little embarrassment on her part when she was required to say, "I am a prostitute," in a crowded café. It's easy to feel acutely self-conscious when you're relaying what you're told in a pair of headphones out loud. You know that feeling that you get when you realise that you're singing along to the music you're listening to, in public? It's a little bit like that, but instead of music, you're spouting out-of-context nonsense.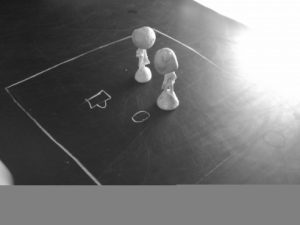 It's not just dialogue, though; it's also stage direction, motivation, and prompts to inspire emotion. Some of the story is told in a very abstract way: early on, Ruth's and my characters had agreed to meet in a house on a hill, near a tree. Ruth laid her hand out on the table, on which she had, under previous instruction, drawn a square and a dot on the heel of her palm. I was told to examine the shape of the "landscape" of her hand, and try drip water from my pipette, from as high as I could reach, onto it. Simultaneously, her character – already in the house (the square) – was told that it had begun to rain, and she heard the sound of a storm beginning through her headphones.
Throughout the course of the event, we each took on a variety of roles: as characters in our own play, as directors of a "play" performed on our table using the props we had to hand, as the audience to both of the above, and even as parts of the scenery.
The story itself… was okay. It felt like it was lacking something. It wasn't bad, and it certainly took advantage of the space and technology it required, but it was perhaps trying to say a little bit too much in a little bit too short a time. But the medium? That whole "scripted, but you don't get to read ahead", headphones-acting? That's kind-of cool and exciting. I've got the urge to try to write something similar myself (perhaps for a cast of five or six). Although first, I've got a murder mystery to finish writing!