It didn't occur to me until somebody looked over my shoulder and commented on it, today, that I actually have an at-least slightly unusual layout for my Firefox window. I thought I'd share with you all the thinking behind the particular collection of add-ons and tweaks that go into my day-to-day web browsing: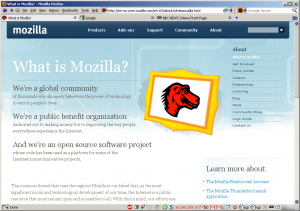 I'm a big fan of maximising the amount of screen real estate available for browsing, minimising the chrome that surrounds it. That's why I use the LittleFox theme. It's not the prettiest theme around, but it's tiny, simplistic, and works with every version of Firefox I've ever thrown it at. It saves space by reducing the size of icons and excess space around tabs and buttons, and it does a great job of it.

To save even more precious vertical space (and because I'm generally running at high screen resolutions, and can spare the horizontal screen space), I combine my menu bar, toolbar, address bar and search boxes into a single toolbar. You can do this by right-clicking on the menu bar and clicking "Customize…" I drop the refresh, stop, and home buttons. I never pressed refresh nor stop anyway, always using the shortcut keys (F5 or CTRL-R, and ESC, respectively), and I my homepage is about:blank. On computers running at lower screen resolutions I've previously used the Searchbar Autosizer add-on to tuck-away the search box when I'm not using it, but nowadays I rarely bother.
I frequently find myself with dozens of tabs open, and I loathe it when tabbed applications force me to "scroll" left and right through my tabs (I'd rather my tabs just got narrower and narrower, until only the favicon remains), so I use about:config to change the browser.tabs.tabMinWidth setting to 0, which, after you've restarted your browser, changes this behaviour.

In addition to the add-ons that can be seen in my status bar – ColorZilla (in the bottom-left, so not visible in the screenshot above), Adblock Plus, FireGPG, Firebug (and a few extensions), Google Reader Watcher, Greasemonkey, HTML Validator, NoScript (with noscript.firstRunRedirection set to false, to stop it's nagging), and ShowIP, I use one further add-on to tidy up my "bookmarks toolbar".
The Status Buttons add-on gives you the capability to drag-drop any other user interface component into the right-hand side of the status bar: I use this to move the entire contents of the Bookmarks Toolbar down into the status bar, tucked out of the way. I remove the titles from most of the bookmarks (I can identify these, my most-frequently-used sites, by their favicons), adding them only where there'd otherwise be ambiguity as to the purpose of the icon.
All of these tweaks give me a huge browsing space that works the way that I want it to. I'm a heavy user of keyboard shortcuts – I pretty much only use the mouse to click hyperlinks and the buttons in the status bar – so this kind of layout suits me very well. One of the great things about Firefox is it's flexibility: that you can make these kinds of tweaks so easily. And hopefully if you're a similar kind of power user you'll take some of these tips and be able to make use of them, too.