Dan gets stopped by two police officers while carrying a battle-axe through the streets of Aberystwyth. Original content on AvAngel.com appeared, as follows:
Andy's account –
I wonder how many police officers, when asked by the guy they've just stopped on the street for carrying a battle-axe, will actually go to the URL he tells them. Well; here's hoping at least one, given that that's what just happened to me! Take a look at this picture on Dan's Picture Page for an overview of the events. The picture is taken by Rory, with his brand-spanking new digital camera. Thanks, Rory!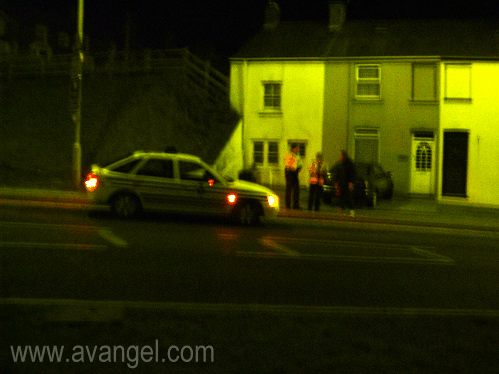 Dan's account –
"Well, what do we do with you now?" asked the police officer, after the search (which had revealed nothing more than lots of keys, a phallic-looking torch, a pack of cards, and a tampon) was complete.
"I expect that's mainly up to you," replied Dan, "You being the police officer, and all."
"Well, we could take you and your axe up the hill and escort you home," he said.
"Mm-hmm," Dan said, "Could my friends come along for the ride?" He gestured across the street, where Rory and De were waiting, looking bored. The police officer shook his head disdainfully. "What're the other options, then?"
"We could take you back to the police station under arrest for carrying an offensive weapon."
"I don't like that idea, either. What's the third option?"
"There isn't a third option."
"Guess I'll be riding with you then." Dan turned and spoke to Rory and De. "I'll catch you two back on campus," he said, "You can pay for your taxi!"
As the police car pulled away, Dan had one more question for the confused officers:
"Have you ever visited AvAngel.com?"